The Vibrant Colors of Coastal Colombia Post-Voyage Extension
Barranquilla, Santa Marta, Tayrona, and Cartagena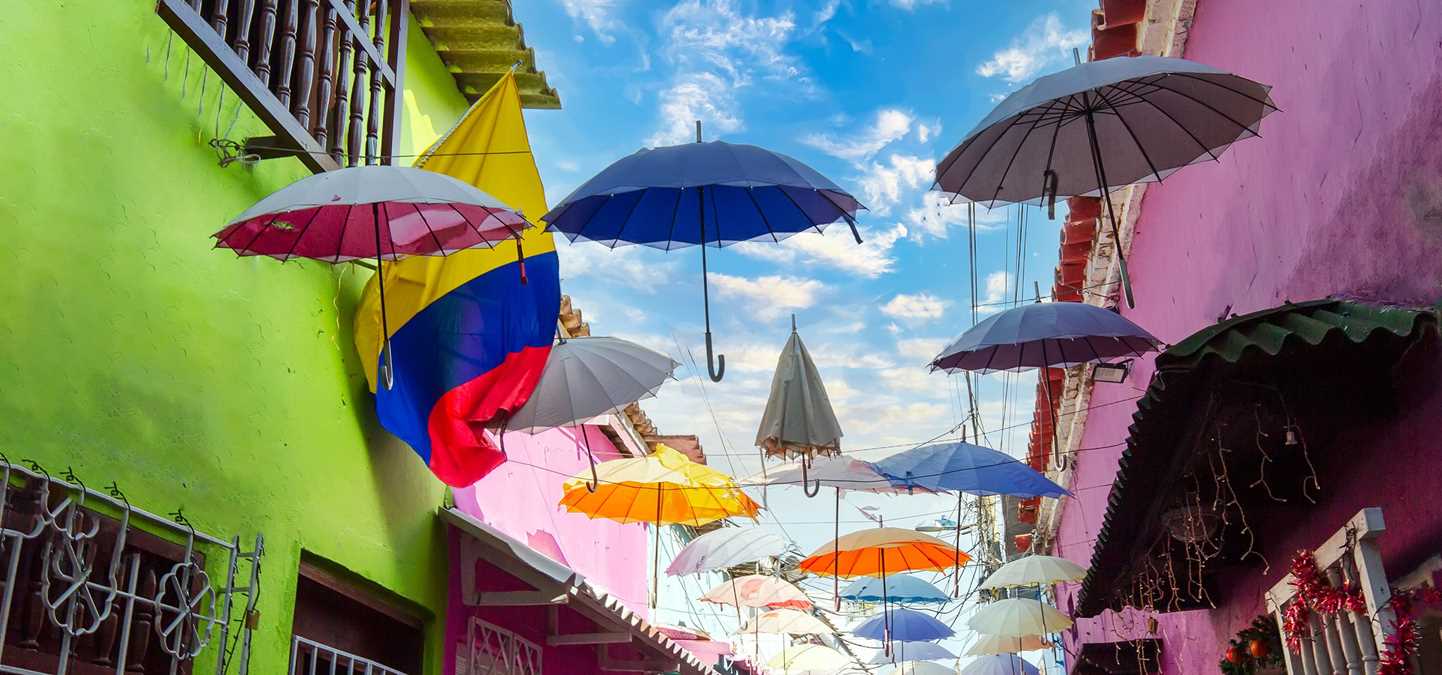 "A Land of Contrasts" is a phrase often used to describe Caribbean Colombia, with good reason. Experiencing this variety of life will enhance your experience of Colombia as we explore vibrant Barranquilla and historical Santa Marta. From here, we leave the city culture and step into the tropical forests and beaches of Tayrona before heading towards the tip of South America and the coastal deserts of La Guajira. Our journey concludes with two days in dynamic Cartagena, a legendary South American hub of history and culture.
Highlights
Cartagena: One of the oldest settlements on the South American continent, founded in 1533, Cartagena is rich in tradition, lore, and culture. Retaining much of its historical flavor, it is a magnificently beautiful city whether in the Getsemani neighborhood, the walled city, or taking in the bird's eye view of the city and beyond to the Caribbean from the forested hilltop of Convento de la Popa.
Palenque: Immerse yourself in the fascinating history of this little town founded by Africans escaping slavery. A palenque was a walled community of Africans in the 17th century; this town, more formally known as Palenque de San Basilio, is the only one to survive today—a fact that led to its inscription on the UNESCO list of intangible culture and heritage. The people of Palenque made forays back to the coast saving thousands of people arriving from African shores destined for a life of forced servitude. As this outpost in the jungle flourished, Spanish colonial rulers eventually simply gave up and accepted the establishment of Palenque as a sanctuary city, perhaps the first of its kind. We also explore Palenque's modern-day musical culture that melds past and present.
Barranquilla: Vibrant, rich, sultry, dynamic, and enticing are accurate descriptions of Barranquilla, farther up the coast. Carnaval and Barranquilla are inextricably linked as the city hosts the world's second-largest Carnaval celebration. In season, the entire city is a party and it seems the rest of the year it prepares for Carnaval. Near Barranquilla, the town of Galapa is known for the masks it creates for Carnaval parades.
Tayrona: Our adventures take us into the Tayrona area, in the lower reaches of the Sierra Nevada de Santa Marta range, to explore the surrounding jungles and rivers. Full of life with red howler monkeys, herons, egrets, parrots, and songbirds, this vibrant area is one of the most biodiverse regions on the planet.
La Guajira: At the farthest northern reaches of South America lies the La Guajira peninsula where the Wayuu tribe has lived for nearly 2,000 years. The Wayuu, having fought off numerous outside threats to their culture and their world, continue to live a simple existence in an unforgiving environment. Witness their unusual and beautiful avian-inspired dances where women adorned in scarlet robes contrast strikingly with the white sand and the azure sea.
From vivacious Barranquilla, pulsating year-round with the energy of Carnaval, to the jungles of Tayrona, where monkeys swing in the thick forest canopy, Colombia's Caribbean coast is a beguiling mix of dynamic cities and wild nature, open ocean and expansive desert. This northwestern tip of South America is also home to two unique communities that have persevered over the centuries, against the odds. We will learn the inspiring story of Palenque, a 17th-century walled town founded by Africans escaping slavery; and meet the Wayuu, an ancient tribe living where the desert meets the ocean. After discovering Cartagena's fortress, cobblestone streets, and vividly painted homes, we will understand why it's considered one of Latin America's most beautiful cities.
Day 1 - Cartagena / Disembark / Baranquilla
Disembark National Geographic Quest and drive along the coast towards Barranquilla. Stop in the small township of Galapa, which is renowned for creating the masks for Barranquilla's celebration of Carnaval. Visit with the craftspeople who make these handcrafted works of art and join a mask workshop. In the afternoon we make our way to Barranquilla and settle into our iconic hotel, El Prado. In the afternoon, we'll enjoy a walking tour of the area. Dinner tonight is at La Cueva, a famed hangout of the so-called "Barranquilla Group" that included writer Gabriel Garcia Marquez and journalist Alvaro Cepeda Samudio. It was here that the Barranquilla Group met over drinks to discuss writing, art, politics, and life. (B,L,D)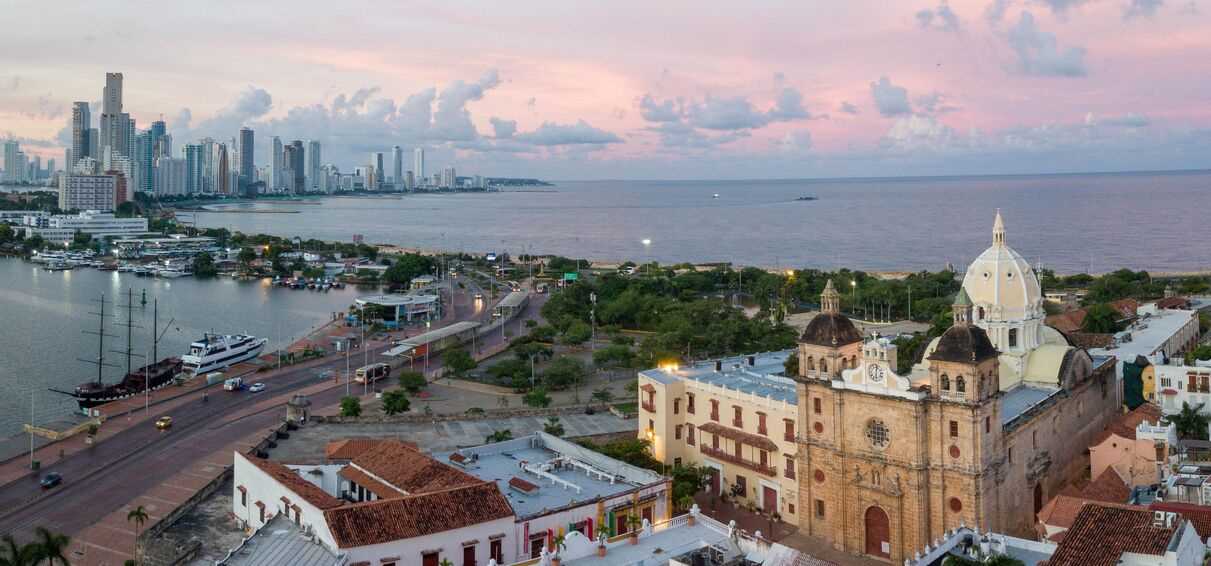 Day 2 - Barranquilla / Salamanca National Park / Santa Marta / Tayrona
Barranquilla, home to the second-largest Carnaval celebration in the world after Rio, bursts with culture. Visiting Casa Carnaval, we come to know the deep connection between Barranquilla and this yearly celebration. Going even deeper into the culture of this thriving city and region, we visit the Caribbean Anthropological Museum.
Drive through the coastal wetlands of Salamanca National Park where shorebirds and herons feed, and to Santa Marta, founded almost 500 years ago. We stop here for lunch in one of the oldest cities in South America, and later visit the sprawling grounds of Quinta de San Pedro de Alejandrino, where Simón Bolívar died. Arrive in the Tayrona area in time to check into our lodge and set out for an evening walk as birds and primates vocalize in the dusky light. (B,L,D)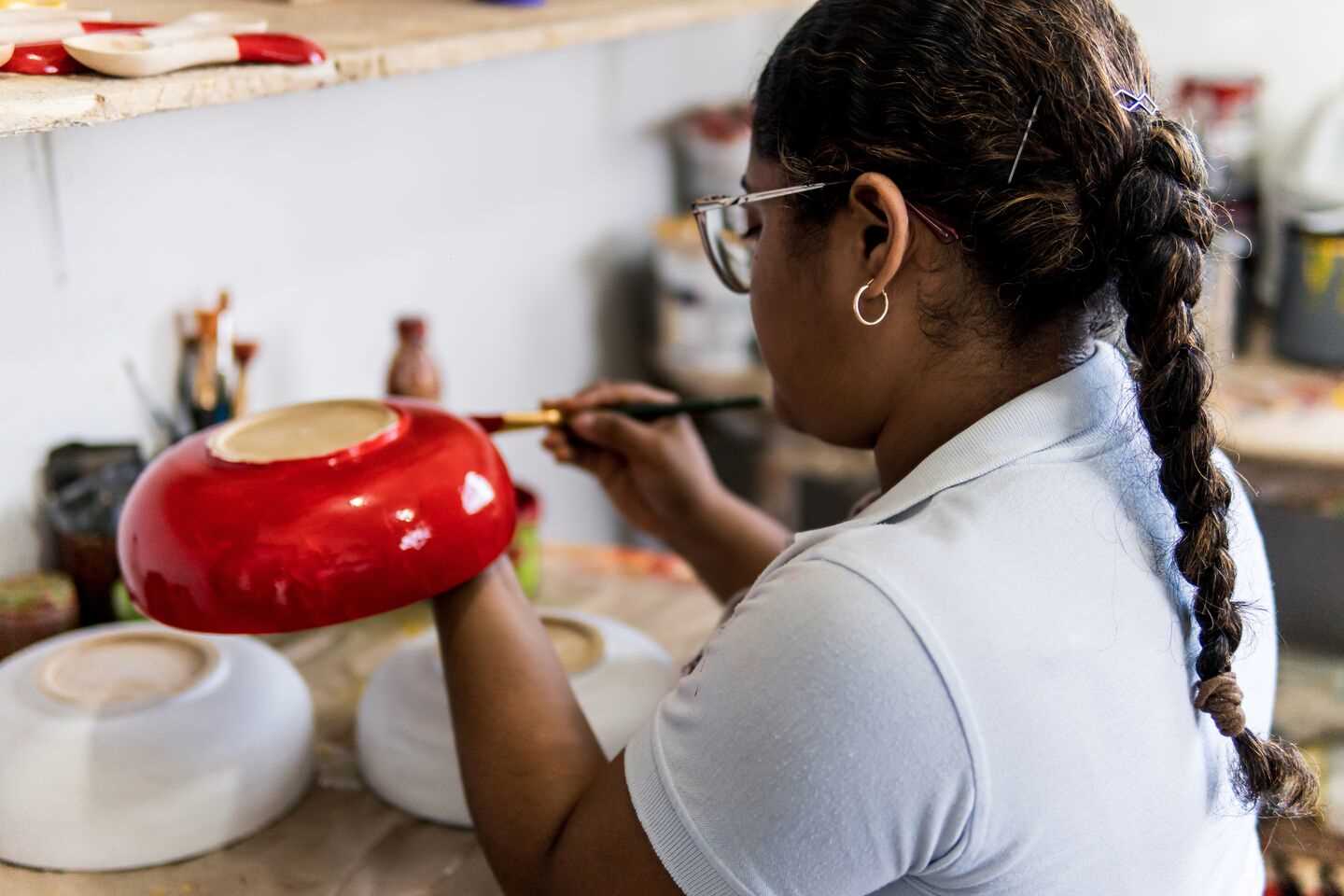 Day 3 - Tayrona / La Guajira
This morning, we leave the tangled tropical forests of Tayrona and emerge into open desert. Today we meet the Wayuu, the "people of sun, wind, and sky." Learn about life on this seemingly barren peninsula, near the northern terminus of South America. The dances of the Wayuu, inspired by local birds, is a visual delight with women dressed in bright red robes moving against a backdrop of white sand beaches and the blue Caribbean sea.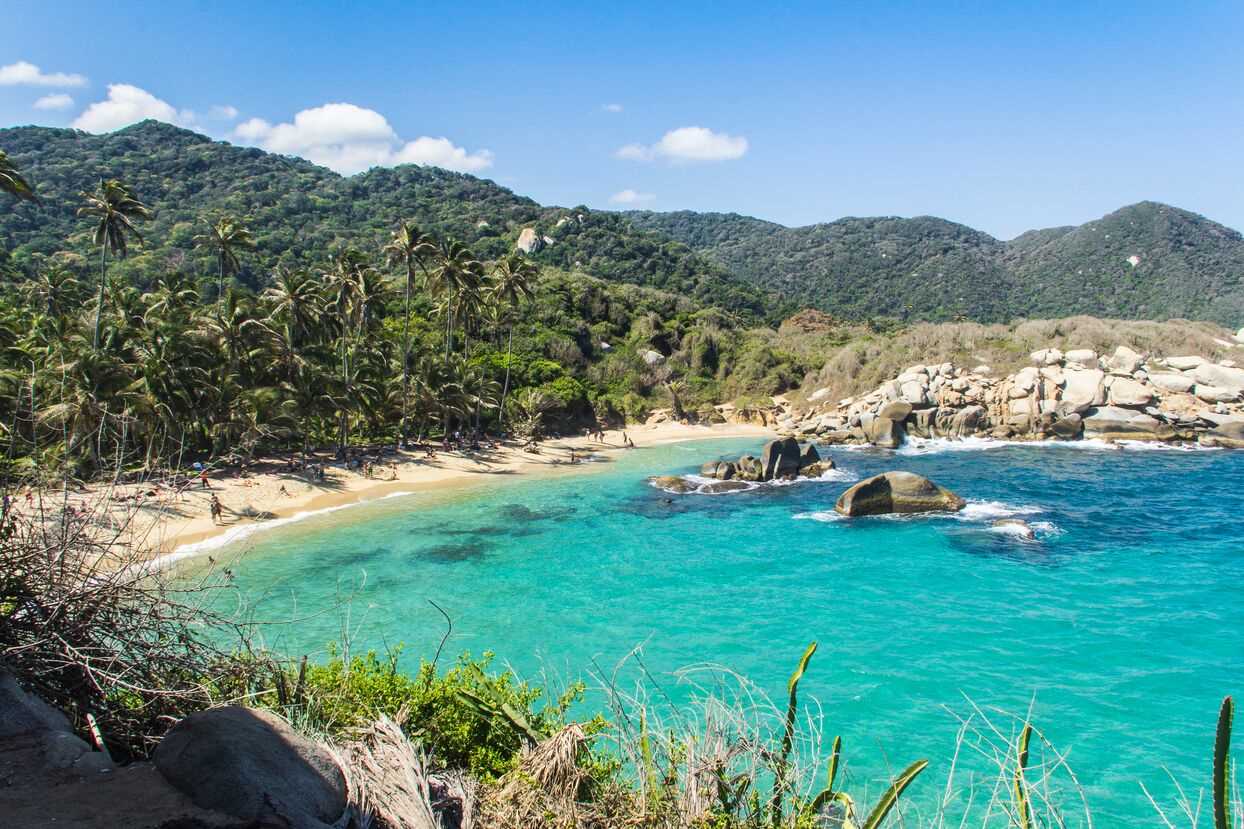 La Guajira is full of life, and the birdwatching here can be outstanding. We will be on the lookout for the vermilion cardinal, the elusive Tocuyo sparrow, the lovely buffy hummingbird and, if luck is on our side, American flamingoes. (B,L,D)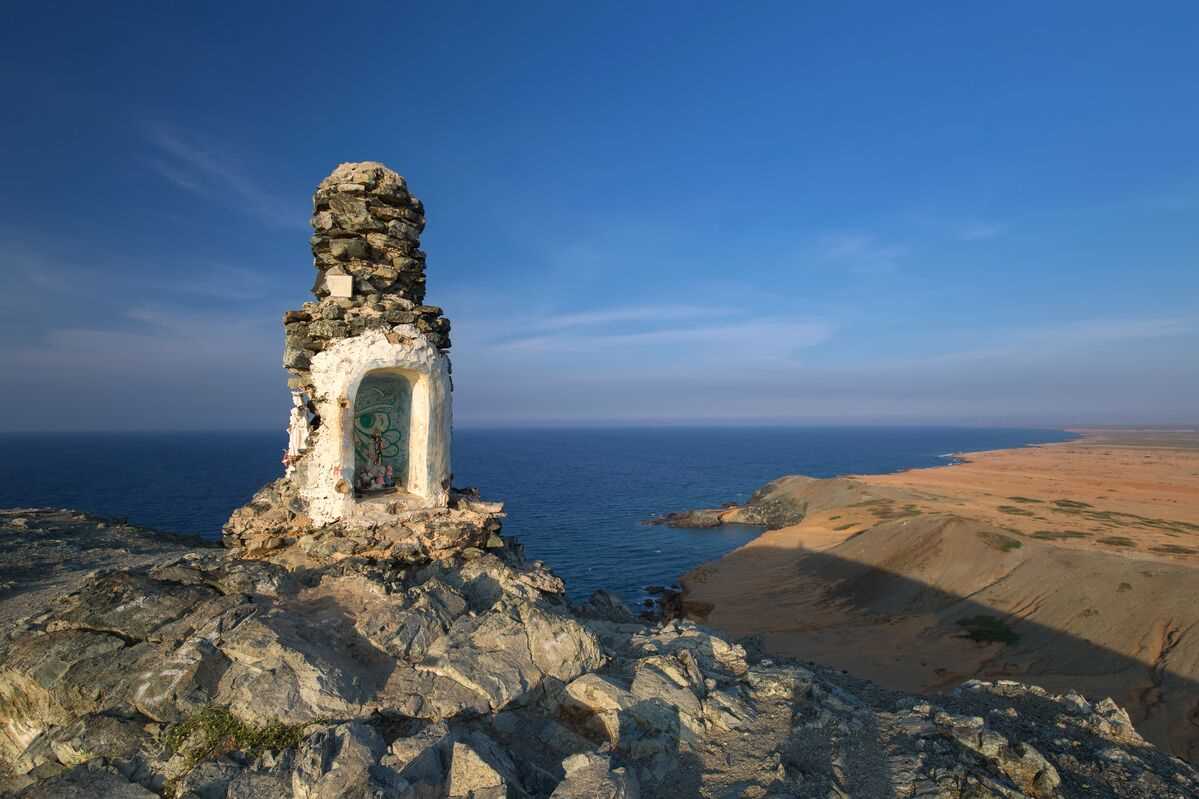 Day 4 - Tayrona / Tayronaka / Don Diego River
Early morning walks into the jungles and along the beach reveal the natural wonders of the humid Caribbean tropical forest. With binoculars at the ready, we will watch for crocodiles in brackish marshes and tropical birds including hummingbirds, wrens, and flycatchers. Scanning the treetops may produce views of primates, perhaps including the critically endangered cotton-top tamarin.
After lunch at the lodge, we drive to the settlement of Tayronaka and then to the Don Diego River, where a peaceful boat ride to the mouth of the Caribbean Sea allows us the opportunity to see red howler monkeys, keel-billed toucans, smooth-billed anis, and Amazon kingfishers. (B,L,D)
Day 5 - Tayrona / Cartagena
Arrive back in Cartagena and check into Hotel Movich de Cartagena de Indias. After lunch, your afternoon is at leisure. Take a siesta or explore the streets and plazas of this beautiful city on a sunset walk. (B,L,D)
Day 6 - Cartagena / Palenque / Getsemani
After breakfast, drive to Palenque, where we dive into the lore and legend of this fascinating village. Learn of its important place in history as a sanctuary city in the 1600s, and discover how the traditional culture is being kept alive in modern ways, especially through music.
Returning to Cartagena, we enjoy a sumptuous lunch. Spend the afternoon exploring the iconic Getsemani neighborhood, the artistic core of Cartagena, which overflows with color and ambiance. Here, we see everyday life in the plazas where food vendors offer delicacies and kids laugh and play in pick-up soccer games surrounded by buildings with weathered wrought-iron balcony railings dripping with flowers. The atmosphere is vibrant and dynamic, infused with modern-day Afro-Caribbean flair, and set against the backdrop of Spanish colonial architecture. (B,L,D)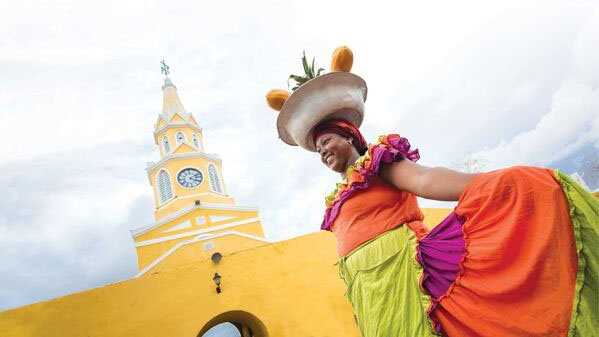 Day 7 - Cartagena
This morning, we ascend to Convento de la Popa. From this high viewpoint above Cartagena, the city is at our feet. This far-reaching view from the site, followed by our visit to the Bazurto Market with its frenetic atmosphere, provide us with rich and varied impressions of this delightful city. Next, step back in time on a walk through the narrow streets of the legendary Walled City—truly a feast for the senses. (B,L,D)
Day 8 - Cartagena / Home
Check out this morning and transfer to Cartagena Airport for flights home. (B)
Costs & What's Included
Occupancy
Cost per person 2023
Cost Includes:
Accommodations, services of professional Expedition Leader(s), local guides, all meals from breakfast on Day 1 through breakfast on final day, all gratuities, airport transfers on final day, non-alcoholic drinks, all activities and entrance fees, all taxes, permits and service fees. 
Not included:
Air transportation to/from Colombia, passport, visa, immigration fees, meals not indicated, travel protection plan, items of a personal nature such as alcoholic beverages, internet, laundry.
Ready for the adventure of a lifetime?