Easter Island Post Voyage Extension
Shrouded in mystery, guarded by the famous moai statues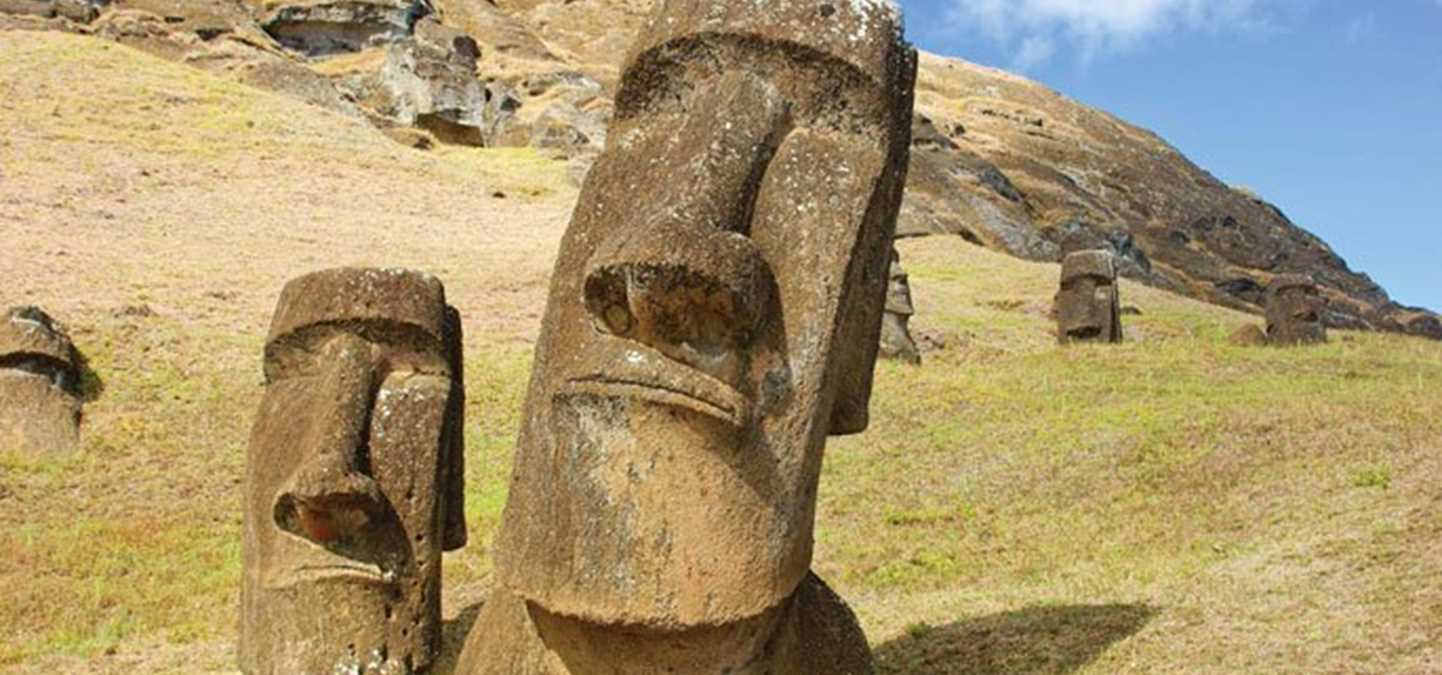 Combine your expedition with a visit to one of the most mysterious places on earth—Easter Island. Home to silent sentinels of a long lost culture, this tiny island is located 2,300 miles west of Chile in the Pacific Ocean and almost 1,200 miles from its nearest island neighbor. Learn about the ancient Rapa Nui culture that grew up in isolation. Where did these people come from and why did they carve more than 600 giant moai or stone statues? Learn from key archaeologists.
NOTE: On select departures, the length of our Easter Island extension may vary between 4 and 5 nights due to airline schedules that service Santiago to Easter Island flights.
The prices listed on the website are for the 4-night Easter Island extension. Departures with the 5-night extension will include an extra hotel night in either Buenos Aires (Explorer and Endurance) or Santiago (Resolution) and will have an additional cost.
Important: Your Easter Island extension flights must be booked through Lindblad for an additional cost. Please call for full details on pricing and departure dates.
Day 1 - Disembark Ship/Fly to Santiago, Chile
Today we disembark in Ushuaia and fly to Santiago (via Buenos Aires), where we check into our fine hotel. (B,L).
Day 2 - Santiago, Chile/Fly to Easter Island
This morning we fly to Easter Island and check in to the Hangaroa Eco-Village Spa & Hotel (or similar), our base for the next three nights (B,L,D)
Day 3-4 - Easter Island
Visit the Tahai Ceremonial Complex, an archaeological site and museum to learn about the prehistory of the island, and the Rano Kau ceremonial site of Orongo, situated magnificently at the very edge of a volcanic crater. Explore Ahu Te Pito Kura, Puna Pau red stone quarry, and Ahu Akivi, one of the latest constructions on the island with seven moai 14 feet tall. See Rano Raraku, where most of the stone statues were carved. Visit Ahu Tongariki, the largest ceremonial altar in Polynesia. (B,L,D)
Day 5 - Easter Island/Santiago
We have the morning to continue our explorations of Easter Island before our flight to Santiago, connecting to homebound flights. (B,L)
Cost Includes:
Accommodations, meals as indicated, transfers, sightseeing tours. Transfers in conjunction with group recommended flights.
Not included:
Personal Items. Chilean immigration fee for Australian citizens only.
All airfares are not included. Extension flights must be booked through Lindblad: Ushuaia/(Buenos Aires) Santiago/Easter Island, and return Easter Island/Santiago.
Ready for the adventure of a lifetime?