She lived on her own, a 'one woman nudist colony,' in a tent, gathering rain and heavy mist for drinking, seeing only the occasional hiker.
Galápagos Expedition Leader, Lindblad Expeditions
Our own Jane Goodall
Few of the female explorers we're celebrating can claim Lynn Fowler's childhood pet roster: a cheetah, an Andean condor, raccoons, a sparrow hawk and more. All thanks to growing up with her Uncle Jim—Emmy-award winning Jim Fowler of Mutual of Omaha Wild Kingdom fame. Get Inspired By Photos, Videos, Webinars, Stories, And Exclusive Offers. Sign Up
We think of Lynn as our own Jane Goodall, and love her photos of her year and a half on Volcan Alcedo, Isabela Island, Galápagos, where she studied interactions and competition between giant tortoises and introduced donkeys for her PhD. She lived on her own, a "one woman nudist colony," in a tent, gathering rain and heavy mist for drinking, seeing only the occasional hiker.
In and around research stints in the Ecuadorian Amazon, and other exotic locales, Lynn worked as a guide in Galápagos. (Certified by the Galápagos National Park in 1978, Lynn is one of the first female guides—officially, naturalist #49). When her daughter Melina was 8 weeks old, Lynn began working as an Expedition Leader with Lindblad Expeditions (conveniently her then-husband was Captain of our ship of that era, the Isabella II). She has led expeditions for us in Baja, Amazonia, Costa Rica, and along the South American Coast, as well as Galápagos.
Lynn was expedition leader on the inaugural voyage of National Geographic Islander, in December 2004, and the ship was her exclusive home for the 15 years since. Recently, after four decades in Galápagos, 30 of them with Lindblad, Lynn retired—to the 600-acre family farm in Georgia, where in a large pasture dubbed Africa, eland, zebra, emu and ostriches freely roam.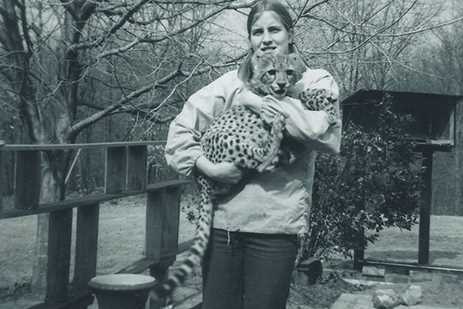 We asked Lynn Fowler:
What is your favorite Lindblad Expeditions destination?
Hands down–Galápagos! Having worked for 32 years for Lindblad, and with a PhD in Zoology, I certainly could have led trips anywhere that Lindblad explores. But mostly I chose to work in the Galápagos. I never tired of the unique and fearless wildlife, the opportunity to watch behavior from just feet away, the remarkable occasional experience of a Zodiac ride with orcas, or snorkeling with dolphin—and the chance to watch a booby being incubated, then hatched, fed and ultimately, fledged!
What destination would you most like to explore?
I haven't yet been to Madagascar. I would like to see lemurs in the wild.
Name your female hero(es) and why?
I have always admired Jane Goodall, Dian Fossey and Birute Galdikas—the three women who went into the wilds of Tanzania, Rwanda, and Borneo in the 1960-70s to study primates under isolated and physically tough conditions. As a young girl, I remember reading about their studies in National Geographic, and dreaming of doing something similar with my life, to find field research in a unique and unusual setting.
What would people be surprised to know about you?
I really like to be alone! After all, I am one of seven children, and have worked as a guide and expedition leader for 40 years, but still I was surprised when I found out how much I don't mind being completely alone.