When Lindblad-National Geographic ships visit the Shetlands Islands, it's usually high summer, a magical time in Scotland's Northern Isles when the sky is light until midnight and sunrise is only a few short hours away. In midwinter, however, the reverse is true. Darkness falls soon after three in the afternoon and the sun won't rise again before nine the next morning. Temperatures drop and in January it rains more days than any other month. Winds off the north Atlantic are strong and wild. Lying some 150 miles north of mainland Scotland's northern coast, winters on the Shetland archipelago can be bleak. Get Inspired By Photos, Videos, Webinars, Stories, And Exclusive Offers. Sign Up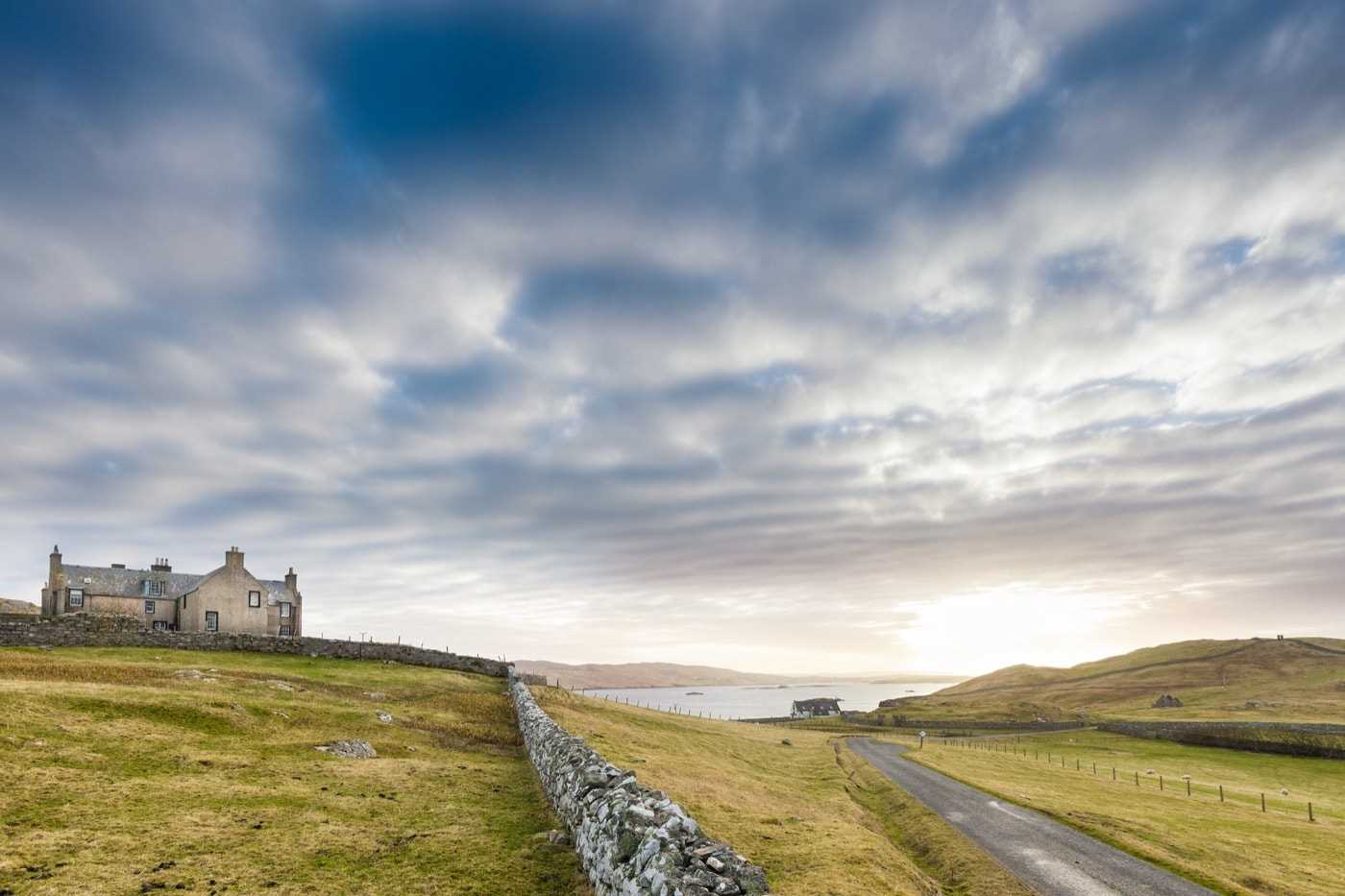 Up Helly Aa: A Time-Honored Tradition
But ask any Shetlander if winter is grim and they will laugh and tell you about Up Helly Aa—Shetland's world-famous fire festival when islanders look back with pride to their Scandinavian heritage. The words translate roughly as Up Holy Day All and it marks the end of the Christmas period and the beginning of lighter days. The main celebration happens on the last Tuesday in January in Lerwick, the principal town, where thousands of individuals take part in an unforgettable spectacle. The centerpiece is a torchlit procession of squads of participants (known as guizers) through the narrow streets dressed as Viking warriors and to be chosen as their leader, or Jarl, is an honor. The grand finale involves throwing the flaming torches into a replica Viking ship and singing while it burns, sending sparks spiralling high into the night air—a sight guaranteed to drive away the worst winter blues. Spin-off events involve feasting and drinking, music and dancing, singing and storytelling, and community-based events continue throughout January and into March in smaller villages and on outlying islands.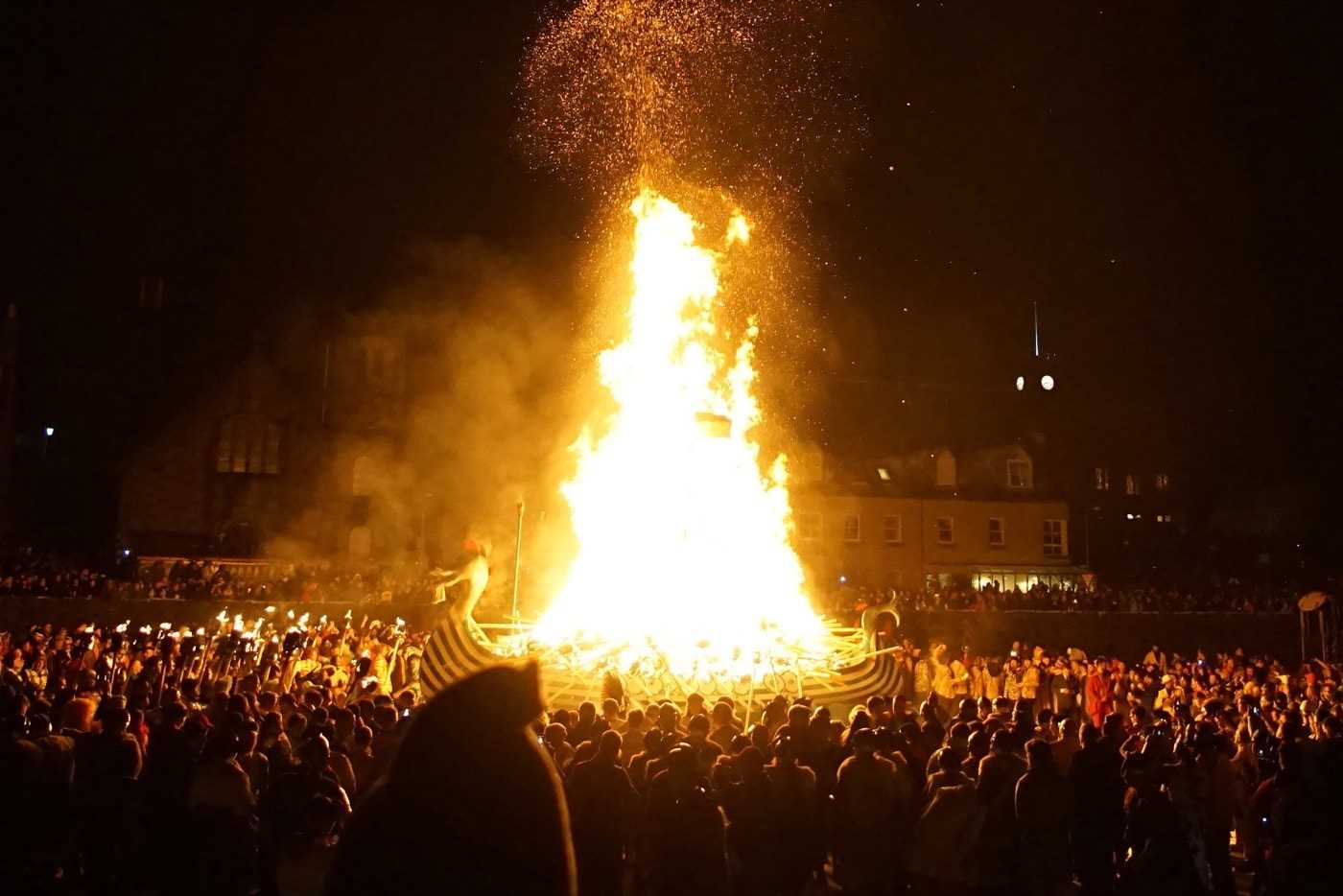 The Origins of Up Helly Aa
Like so many of these 'ancient' traditions, however, we have the Victorians to thank for Up Helly Aa as much as the Vikings. The origin of the festival lies in the 19th century when an older tradition involved high-spirited young men rolling flaming tar barrels through Lerwick's streets. These celebrations, allegedly held to greet the slow return of longer days, became more and more rowdy, causing such alarm that steps were taken to control and channel this potentially disastrous energy. Such antics were by no means restricted to Shetland and once took place, in various forms, throughout the British Isles. A famous blazing tar barrel event is still held (in modified form), at Ottery St Mary in Devon and, having seen it for myself, I can confirm there is something about fire and darkness and high spirits which sets the pulse racing!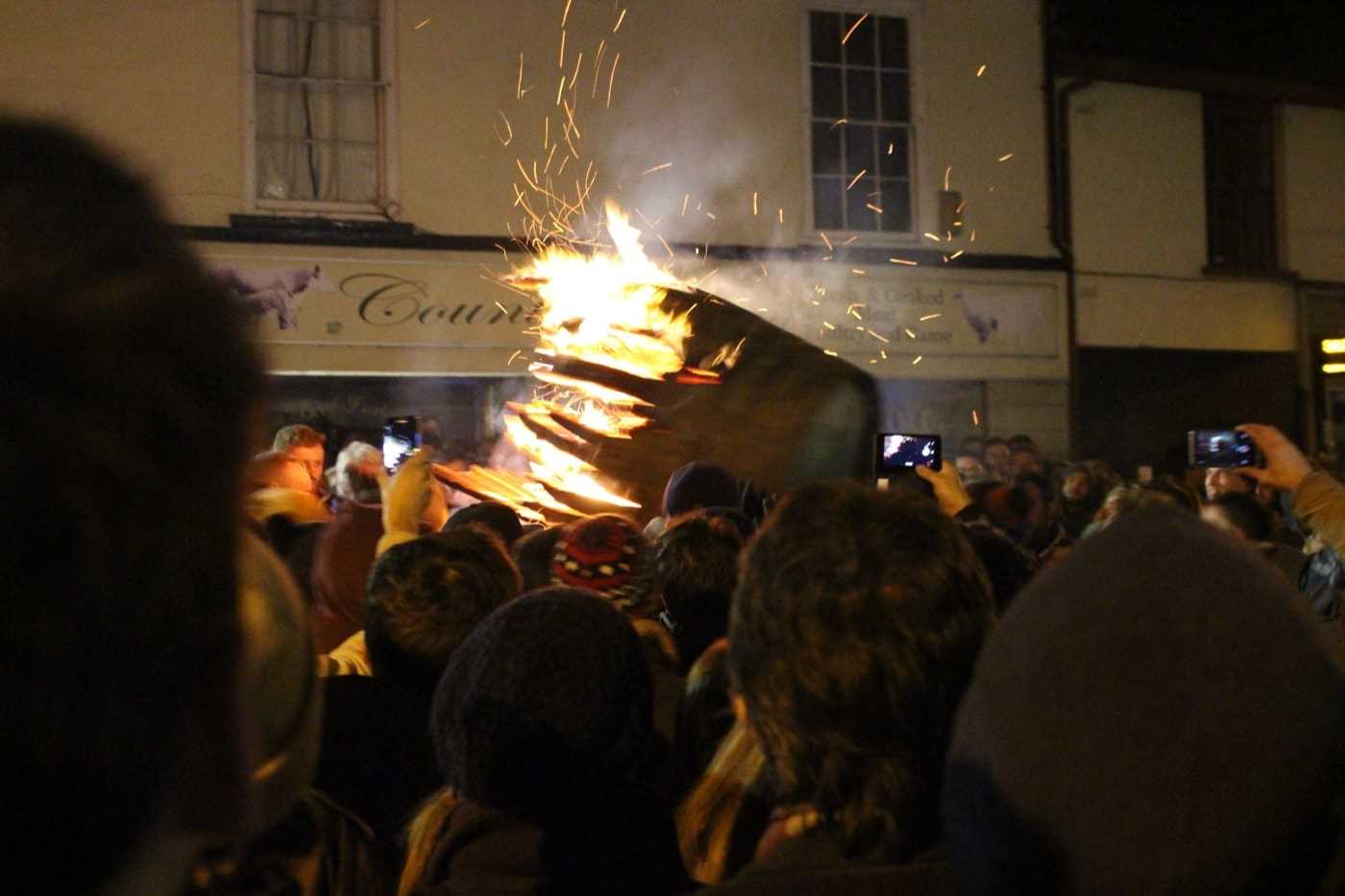 In the 1870s, tar barrel rolling was made illegal in Shetland and was soon replaced by the first torch-lit procession in Lerwick in 1876. It was more than a decade later that burning a replica galley (ship) was added to the festivities and it is since then that the highly popular Viking theme has developed. Curtailed, or cancelled, due to Covid restrictions these past two years, it will no doubt return with renewed vigour in celebration of better times ahead.
From Victorians to Vikings
Even though the Viking element of Up Helly Aa is a Victorian invention, it was wholly appropriate to incorporate this theme into the island's winter celebrations. Shetland is duly proud of its Scandinavian heritage. The archipelago comprises about 100 islands, some barely more than rocks or skerries, and together these boast approximately 900 miles of indented coastline, which proved tempting to early Scandinavians with an eye to new lands to settle. Parts of Shetland are closer to Norway than to Scotland and the connection between the two countries goes back to the late 8th century AD when Scandinavians first arrived, and began to live alongside, or supplant, the Pictish people already established there. During the subsequent so-called Norse era in Shetland's history, a Scandinavian-derived language called Norn was spoken in the islands until it was gradually replaced by Scots in the 17th century. Although now extinct, linguistics experts point to many similarities between Norn and the languages which developed in the other Scandinavian colonies of Iceland and the Faroe Islands.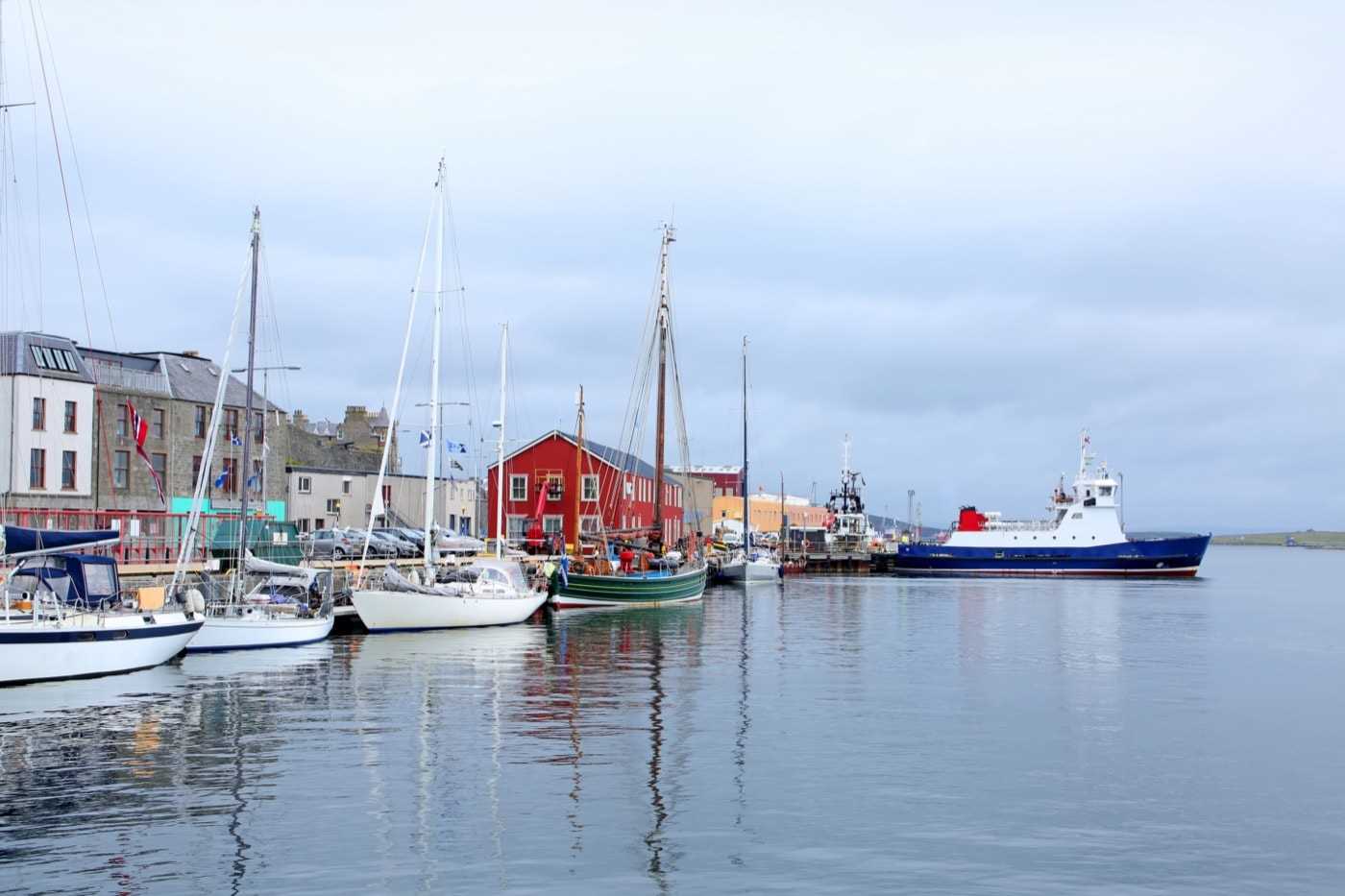 The Shetland Islands provided these seafaring Scandinavians with an ideal base for raids south to mainland Scotland and to the richness of England beyond as well as stepping stones on the way to the Faroes and Iceland. The islands, however, were more than pirate bases, as the many modern-day Shetland farms and settlements with Scandinavian placenames attest. The ever-popular Lindblad-National Geographic expeditions around the British Isles and along the Viking sea routes frequently stop at Jarlshof on Sumburgh Head on the southern edge of Shetland's main island. Here, extraordinary evidence for four millennia of settlement, exposed after a mighty Atlantic storm, was discovered. Serious archaeological excavation began in the 1930s and identified, together with Neolithic, Bronze and Iron Age settlement evidence, a number of long houses indicating Norse era occupation from the 9th to the 14th centuries. A wealth of evidence of daily life showed that these folk were farmers and fishers, craftsmen and traders and artefacts discovered there link these islanders to rest of the dynamic Viking world. The name Jarlshof was bestowed on the later fortified manor house, whose ruins can be seen there, by the famous Scottish writer Sir Walter Scott whose novel The Pirate is set there, and the name now applies to the whole excavated area.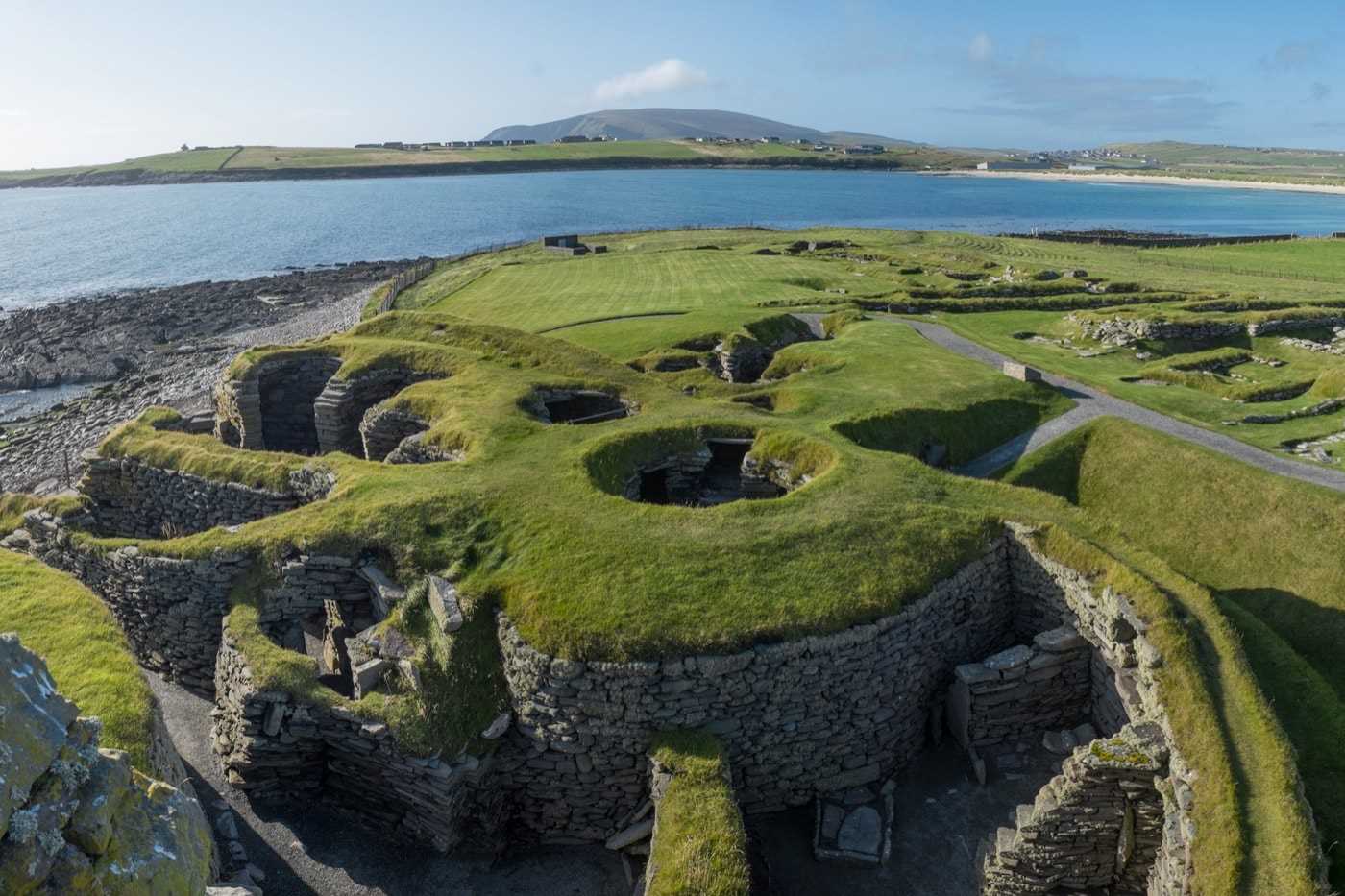 A Jarl is an Earl (or nobleman) and Shetland was governed by the Earls of Orkney and Shetland, under the rule of Norwegian kings, from the late 9th century for three turbulent centuries until the late 12th century when the islands were taken back under direct Norwegian control. This did not resolve conflicts and frequent revolts and Norwegian interest in the islands began to wane. In 1472 the islands were absorbed by James III of Scotland and have remained part of Scotland ever since.
We can, therefore, only congratulate those astute Victorians who sought to curb the pent-up energies of Shetland's youth, weary of weeks of darkness and shrewdly harnessed it to the island's rich and vibrant history. In so doing they created the world-famous Up Helly Aa festival and ensured that the legacy of the Vikings, who give the islands their uniquely rich character, lives on in hearts and minds of islander and visitor alike.