On March 9, 2022, news broke that Ernest Shackleton's lost ship, the Endurance, had been found 106 years after it sank. Just a few days earlier, guests and staff aboard an Antarctica voyage recreated a leg of Shackleton's historic hike, along with the historic image captured by expedition photographer Frank Hurley. As they hiked the trail, they did not know the legendary ship had already been found. Here, Field Correspondent Jennifer Kingsley recounts the experience.
It was March 7, 2022, when a group of us from the National Geographic Explorer set off on what has become known as "The Shackleton Hike." It is the last few miles of Sir Ernest Shackleton's epic journey towards Antarctica between 1914 and 1916. The events unfold like a movie script, and indeed several movies have been made from this story. After the Endurance sank on November 21, 1915, Shackleton and his men spent months on the ice before a harrowing sail from the Weddell Sea to Elephant Island. From there, Shackleton and five others sailed for 16 days in a lifeboat called the James Caird to reach South Georgia, 1,200 kilometers away.
This historic photograph was taken by Frank Hurley on April 24, 1916, when the James Caird left Cape Wild on Elephant Island for that nearly impossible crossing of the Southern Ocean in search of rescue.
When Shackleton arrived to South Georgia, he—along with Tom Crean and Frank Worsley—crossed perilous icefields to reach relative civilization at the whaling station of Stromness.
We joined the story for the last five miles of that walk.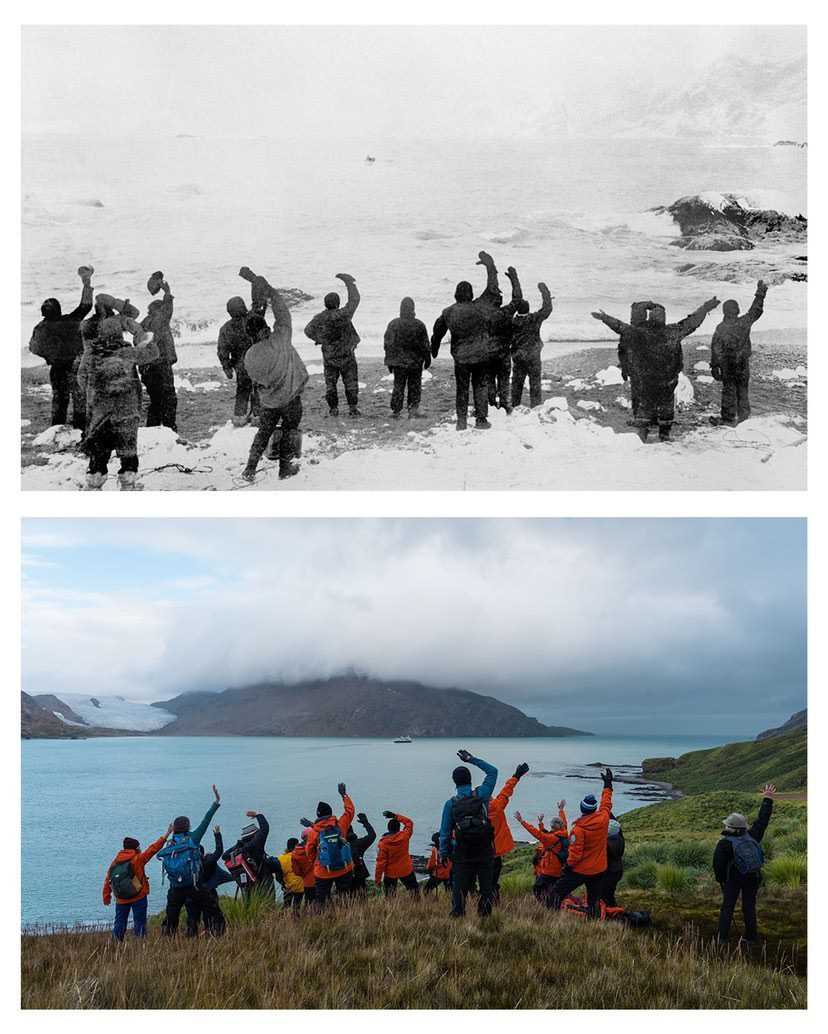 Top: Frank Hurley's historic photo; Bottom: Lindblad Expeditions guests recreate the image shot by certified photo instructor Alex Krowiak.


We hiked up from Fortuna Bay as the National Geographic Explorer pulled away, and certified photo instructor Alex Krowiak made this image to echo Hurley's famous shot. Though we would only be away from our warm ship for a few hours, the history around us was palpable. Further along the trail, we passed Crean Lake, where Tom Crean fell through the ice and nearly froze. Then we crested the ridge where the men finally heard the whaling station's whistle and knew they were saved. When our ship's horn sounded—another echo of history—we tried to imagine their relief.
We have paralleled Shackleton's experience all week: hiking in his footsteps, searching for his campsites, and visiting his grave. Little did we know we would be here when, after 106 years, his ship was found.
It was a thrill to wake up on South Georgia on March 9, 2022, as the news broke that the ship had been found four days before. The first dramatic images were released to the world, and though we saw them on-line like everyone else, we felt ourselves closer to the action. Endurance now sits in 3,008 meters of water, four miles south of the last position that Frank Worsely recorded before she sank. The water around her is clear and still. We can read her name—Endurance—and see the star that still blazes from her stern, installed before Shackleton bought her, when she was named Polaris and intended for polar tourism.
In the latest act of a story that never seems to end, the Endurance was found 100 years to the day after Sir Ernest Shackleton was buried here on South Georgia Island. The ship's name will not soon be forgotten, nor Shackleton's family motto that inspired it: "By Endurance we conquer."