One of the most biodiverse countries on the planet, Costa Rica does not lack for awe-inspiring encounters with pure wildness. From mist-shrouded rainforests and tropical islands, to volcanoes and colorful coral reefs, this vibrant region entices nature lovers with an incredible variety of experiences. Our popular eight-day Costa Rica & The Panama Canal voyage and our six-day Wild Costa Rica Escape to Guanacaste both offer thrilling, up-close introductions to these natural wonders. But once you get a taste, it can be hard to tear yourself away. To satisfy that craving (and then some!), we developed enhanced opportunities that explore the inland heart of this pristine green paradise.
Take a walk through the canopy of a magical cloud forest; soak in the majesty of a towering volcano from a small boat on a placid lake; or stand on a remote black sand beach where 14,000 sea turtles have been counted. Read on for more about these outstanding additions to any Costa Rican adventure—then see how to custom-tailor your trip to create the perfect, bespoke expedition.
Get a Bird's-Eye View in the Monteverde Cloud Forest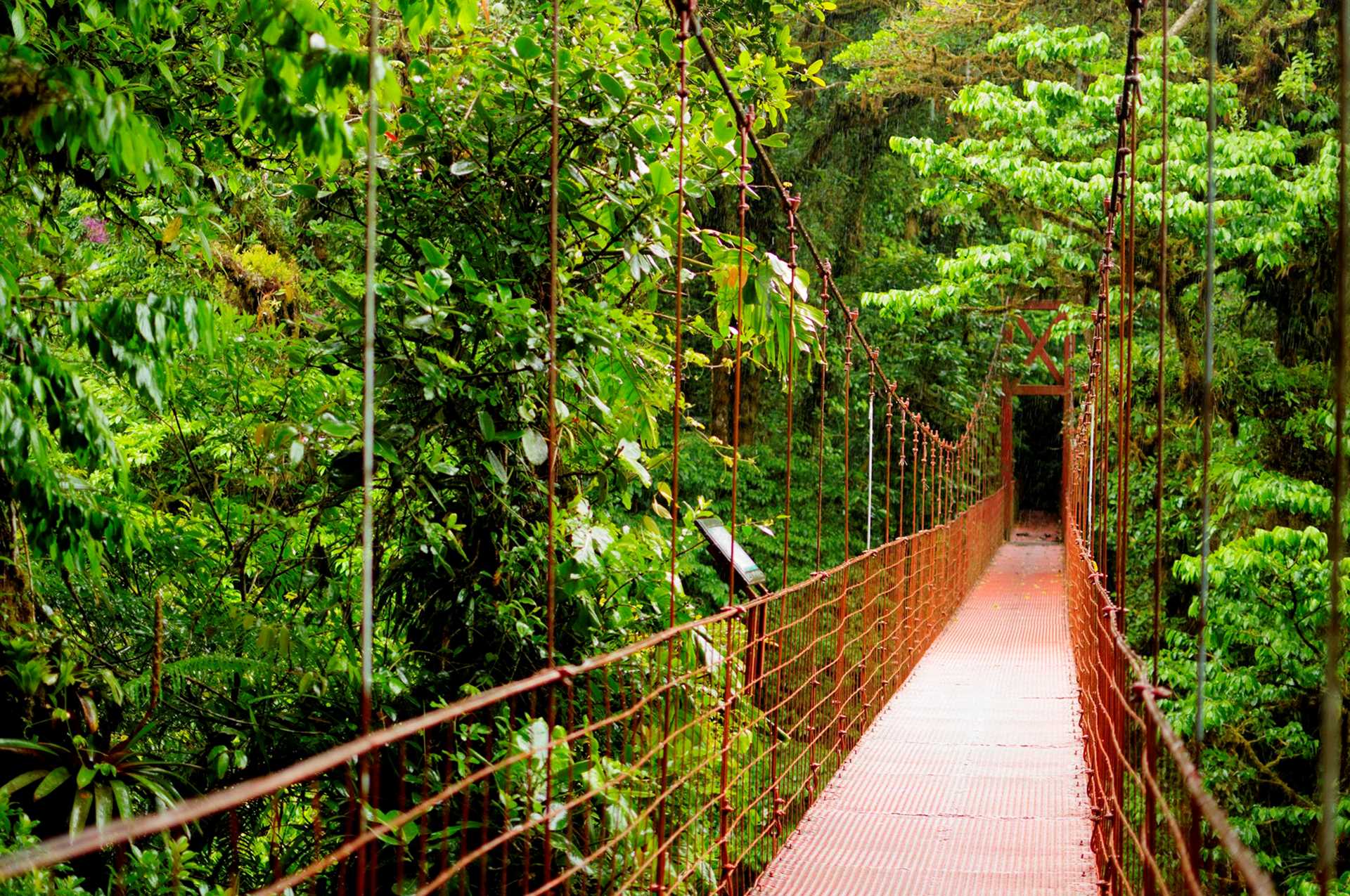 The 26,000 magical acres of the Monteverde Cloud Forest hold a mind-boggling number of species of plants and animals. The constant cool, canopy-level mist of the unique cloud forest environment nurtures lush vegetation: more than 750 species of trees, 177 types of ferns, plus thick vines, carpets of moss, and the Earth's most diverse concentration of orchids. The quetzal is just one of 91 bird species found here, living high above the forest floor and streams where mammals like the agouti and peccary roam free. Crossing the Skywalk—suspension bridges over the forest canopy—is an exhilarating way to experience this flourishing, primal cloud forest and spot flora and fauna not visible from the ground.
Marvel at the Majestic Arenal Volcano
Rising high above the surrounding verdant northern lowlands, the picture-perfect Arenal Volcano has been in a resting phase since 2010. The centerpiece of a national park, Arenal has a 460-foot crater, miles of trails, cascading waterfalls, rushing streams, and a series of footbridges. The tree-top bird's-eye view from Arenal Mistico Hanging Bridges allows close connection to nature and possible sightings of sloths, howler monkeys, coatis, and tanagers. Thrill seekers will want to zoom over the tropical canopy on a zip line, while everyone will appreciate an end-of-day soak in a hot spring, geothermally heated from a subterranean river.
Spot Sea Turtles, Sloths and More in Remote Tortuguero
Only accessible by air or water, the 22 miles of beach by the remote, car-less village of Tortuguero is the largest green sea turtle rookery in the Western Hemisphere. Although turtles are the primary draw, and the Sea Turtle Conservancy beautifully explains their work with these endangered creatures, the surrounding rainforest and freshwater canals of Tortuguero National Park are a haven for many other animals. Navigating a maze of waterways through the jungle foliage, it is possible to spot caimans, toucans, tapirs, sloths, and manatees.
At-A-Glance Guide to Your Ideal Costa Rican Adventure
If you're looking for an up-close introduction to tropical wildness and wonder: Join our popular eight-day expedition to Costa Rica & The Panama Canal. Discover incredible Costa Rican wildlife paired with the excitement of a once-in-a-lifetime canal transit.
For an in-depth, epic adventure into the region: The three special places mentioned above are relatively near each other in the north and all are experienced on our 15-day Panama Canal to the Costa Rican Highlands: A Central American Odyssey itinerary that also includes a Panama Canal transit, swimming in waterfall pools at Corcovado National Park, and exploring the idyllic Isla Coiba.
Looking for something a little less ambitious? It's possible to add on just Monteverde Cloud Forest. The 11-day Costa Rica's Cloud Forest Through the Panama Canal expedition begins in Monteverde and continues to Corcovado, Golfo Dulce, and Isla Coiba before ending with an unforgettable canal passage.
If you love wildlife but also want to discover some incredible man-made wonders in this diverse region: Add a three-day Panama City & San Lorenzo Post-Extension to any of the above expeditions. You can look forward to an exclusive behind-the-scenes Panama Canal experience, plus visits to the Frank Gehry-designed BioMuseo and two UNESCO World Heritage Sites.
Want a shorter getaway with a more laid-back vibe? Opt for our six-day Wild Costa Rica Escape: Exploring Guanacaste's Natural Wonders. This region is teeming with uninhabited islands, wildlife rich-jungles, and friendly towns where 'pura vida' is practiced. You'll have unforgettable, off-the-beaten-path moments like exploring the unique ecosystem of a tropical dry forest or sailing through idyllic and wild mangrove forests.


For questions and help customizing your perfect Costa Rican adventure, call us at 1-800-EXPEDITION or contact your travel advisor. Our Expedition Specialists are ready and waiting to assist you.