Award-winning writer Fran Golden has been traveling to Alaska since the mid-1990s and has visited in all seasons. She is so obsessed with all that she has seen and experienced in the 49th state she recently co-wrote the book 100 Things To Do In Alaska Before You Die (Reedy Press). Here, she recounts the legacy of Lindblad Expeditions in Alaska with help from founder Sven Lindblad and other key members of the team.  Get Inspired By Photos, Videos, Webinars, Stories, And Exclusive Offers. Sign Up
In 1981, Sven Lindblad learned that the sister ship of the small ship he was chartering to take guests to see whales in Baja California had an opening on its calendar for May and September. It was a welcome opportunity to expand into a new geography and after looking at a map for wilderness that would intrigue travelers, he set his sights on Alaska.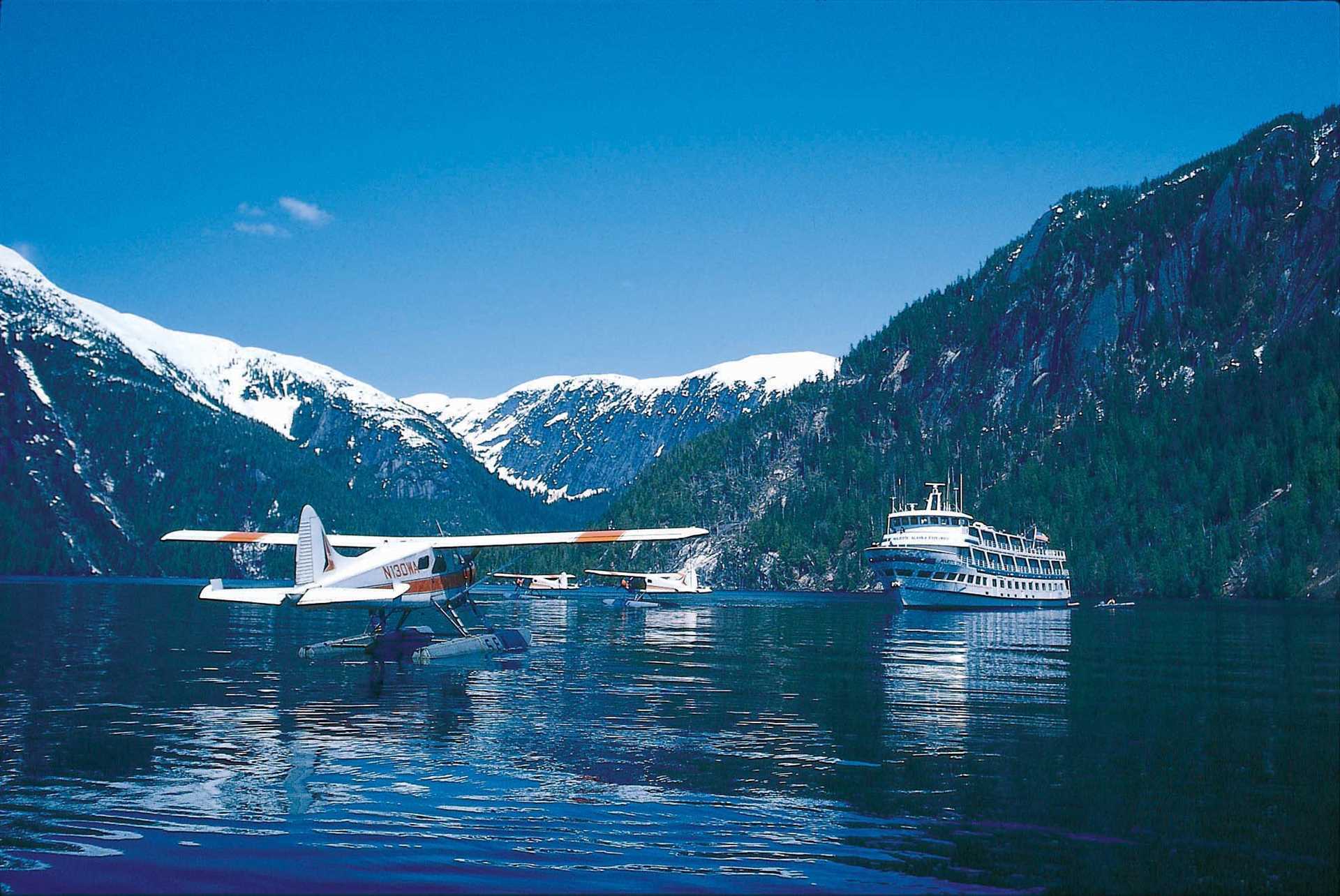 On his reconnaissance of the region, the founder of Lindblad Expeditions chartered a floatplane and, from the air, he was amazed by what he discovered: "glaciers, whales, bears, and wilderness so vast it's hard to get your head around it."

Today, even as the cruise industry has grown in Southeast Alaska, "it's one of those destinations that just constantly makes people very happy," says Lindblad.
Count me among them, though I've been exploring and writing about Alaska for only about 30 years.  

Each time I visit Alaska, I come home with plenty to talk about, like the time I saw a grizzly stand to his full height; witnessed a glacier thunderously shed a building-sized chunk into the sea; flew over an icefield from a floatplane; and got to talking with professional fishermen at a dive bar in Petersburg.

Alaska grabs a piece of your heart, and your mind.
In Alaska, Experience Counts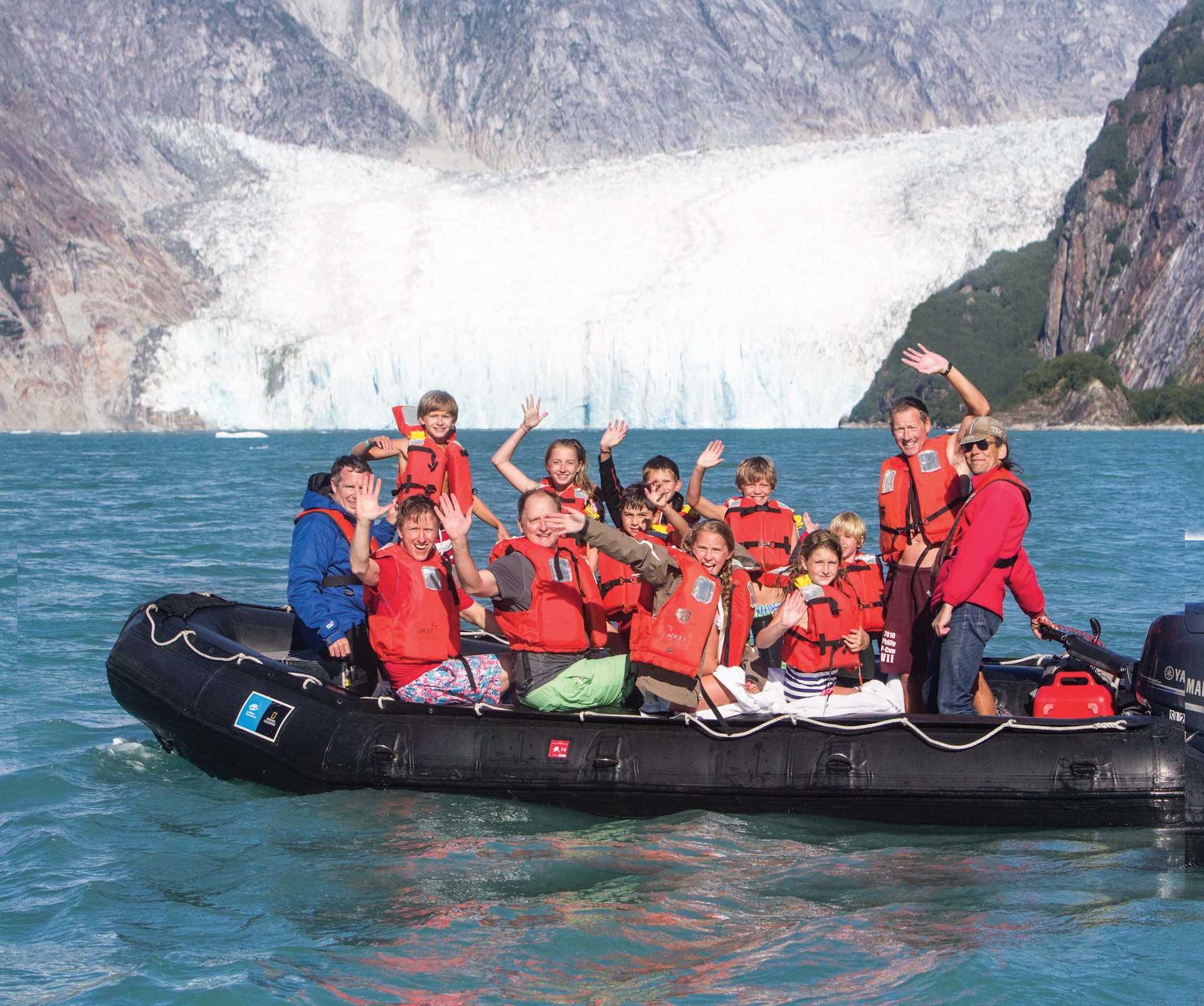 From its very first voyages in the region, Lindblad Expeditions has avoided places where larger ships are routed in favor of bays and fjords where guests can commune with wildlife and contemplate the great expanse of wilderness in the Tongass National Forest–which covers most of Southeast Alaska, including Glacier Bay National Park, the magical Misty Fjords, and beyond.

Even in a market with big ships, and competing small ships, Lindblad-National Geographic continues to stand out–now with a fleet of four U.S.-flagged ships, carrying only 62 or 100 guests. Although the ships embark from the popular tourist towns of Juneau, Sitka, and Ketchikan, within minutes you are setting course for places where civilization is just a speck on the map.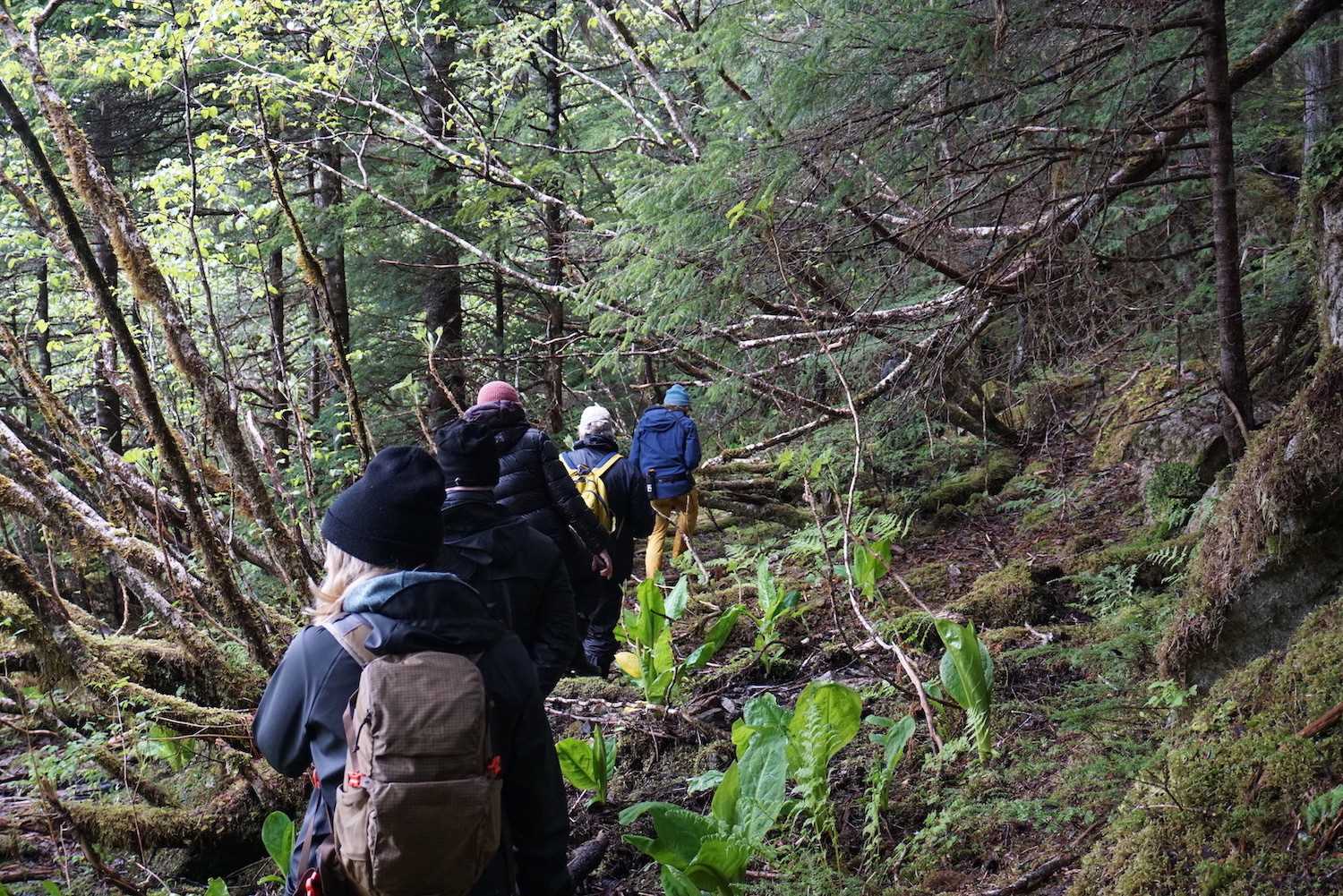 "There are so many little nooks and crannies where we have discovered over the years that this is a great place to take a hike, this is a great place to kayak, this is a great place to see wildlife," Lindblad says. "You build up the knowledge over the years, and it really makes for an action-packed time."

A Wildlife Wonderland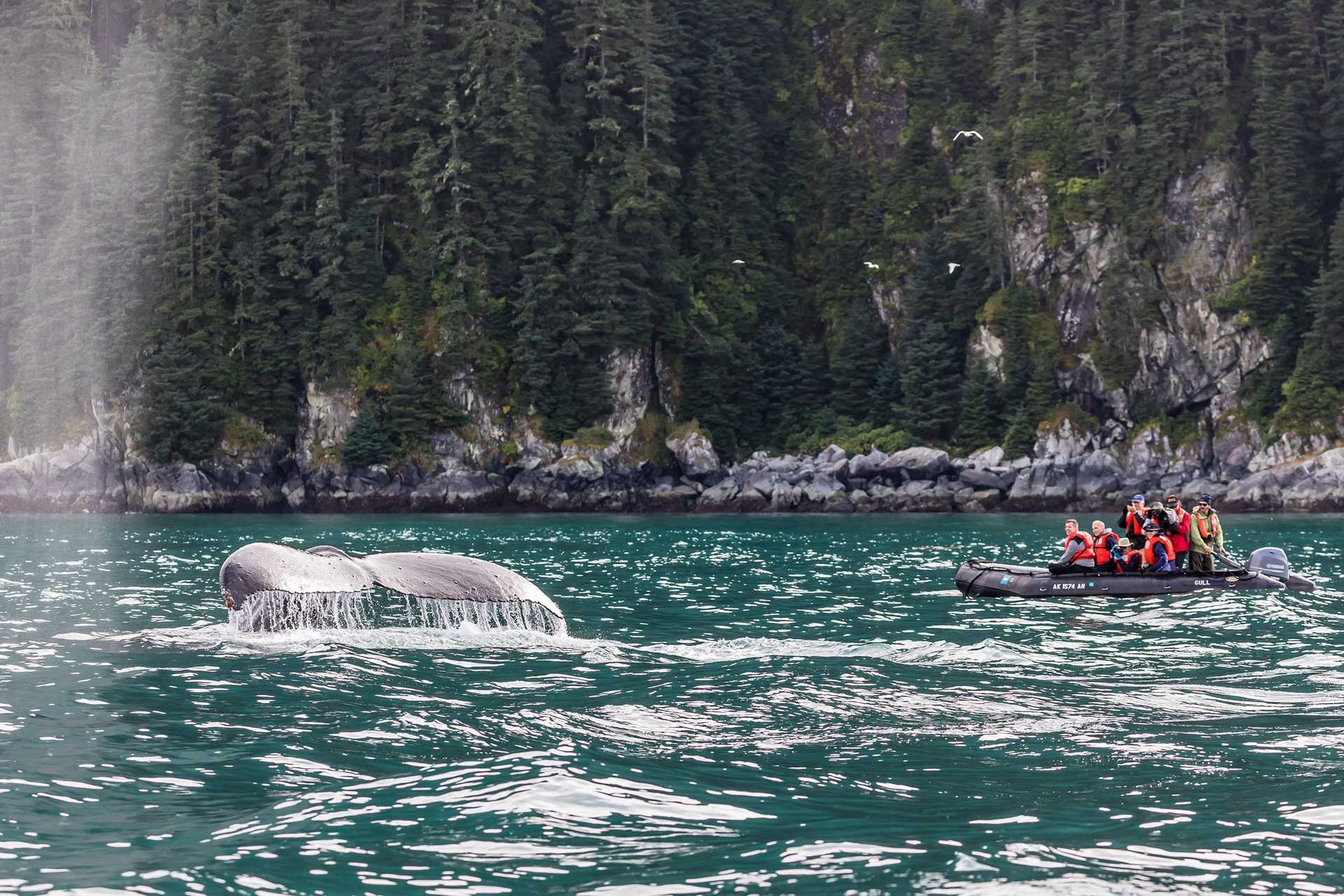 First-time visitors to Alaska hope to see two of the region's iconic animals: bald eagles and humpback whales. What they don't realize is the numbers of both have increased in the past 40 years, says Lindblad.
He recalls a cruise a few years ago when the ship left Juneau one evening, and by the end of dinner had encountered a pod of humpback whales joined in a bubble-net feeding behavior, where they corral fish by creating a net of bubbles. "We rarely saw this behavior 10 years ago," Lindblad explains. "Now it's a regular occurrence." Experts from the Alaska Whale Foundation frequently come on board the ships to illuminate such behaviors, which exponentially enhances the experience. They can even point out individual whales that the foundation has been tracking and share fascinating details about where they have been and what they have been up to. 
In such places as the Inian Islands, the last islands before the wide-open Pacific, it's not uncommon to also spot orcas, as well as frolicking sea otters and large Steller sea lions.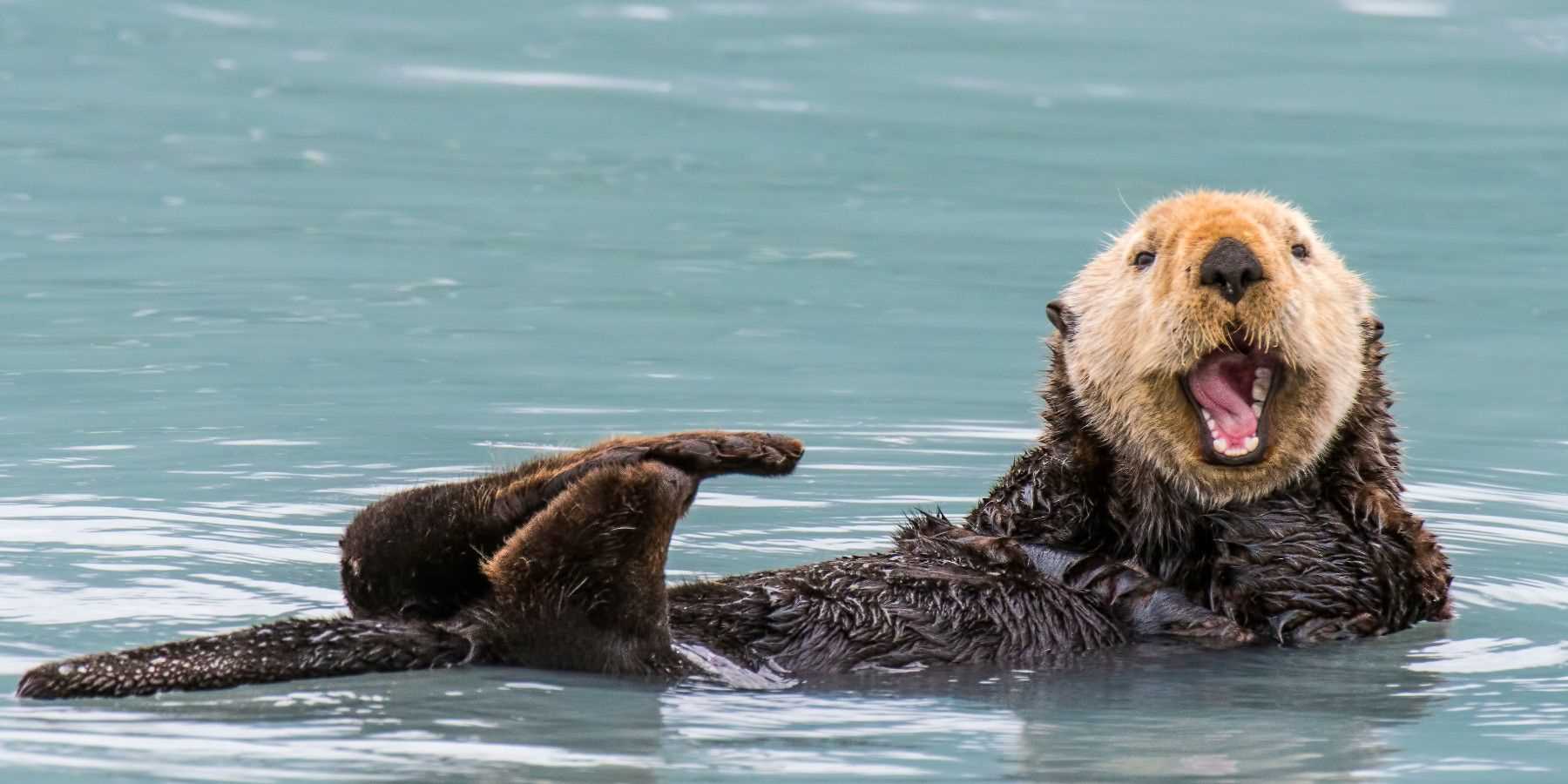 "Where we go, you are still alone in these amazing wild places," says Trey Byus, Lindblad Expedition's chief expedition officer, who began working for the company as an expedition leader in Alaska in 1993. "Guests want to be in awe, to see crashing glaciers and towering mountains, to witness bears and whales up close in their natural habitats. It's all there and we help to enhance these moments by going where no other cruise ships are exploring. We're surrounded only by pure wildness."
Quiet Passages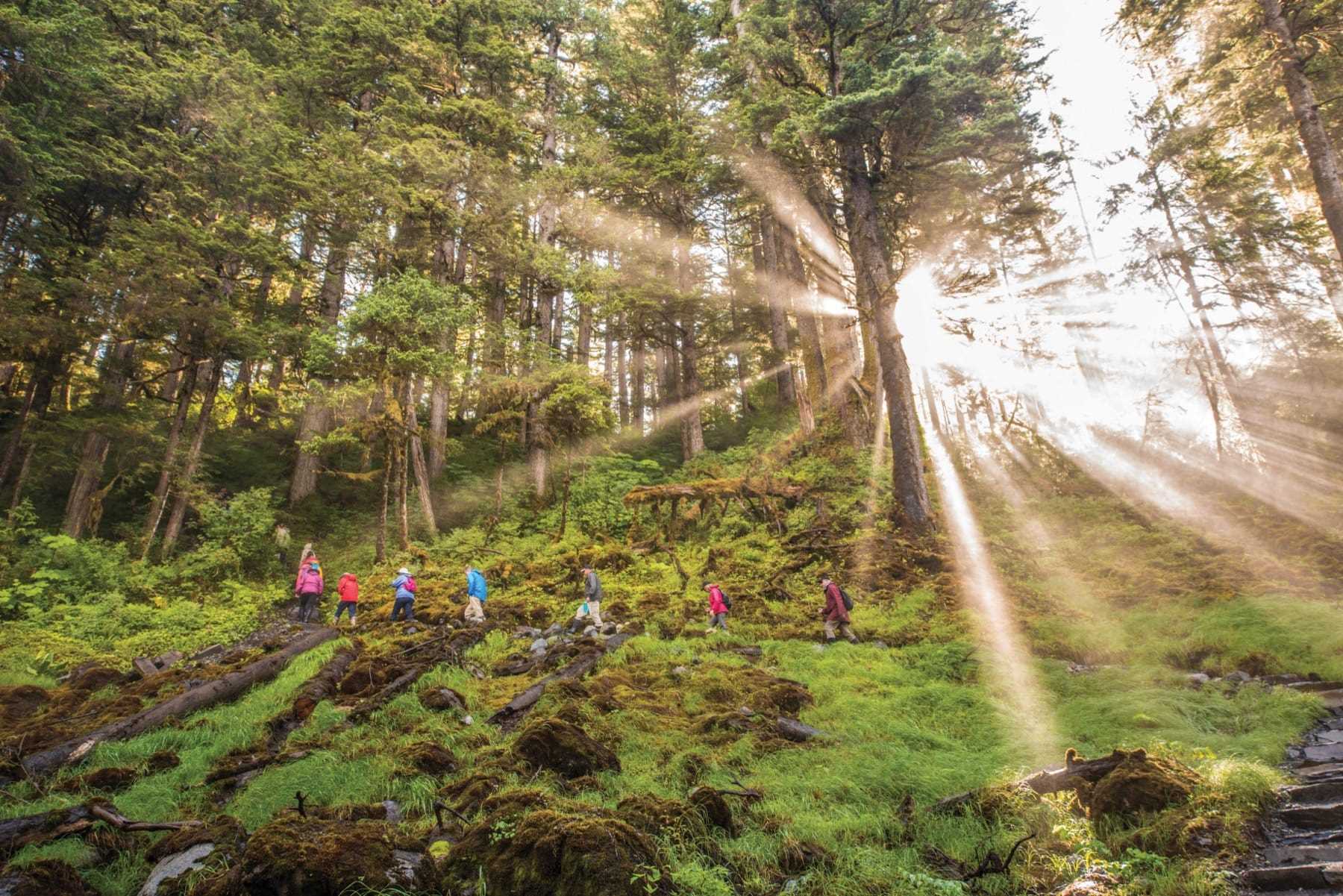 On foot, naturalists may lead you across Alaska's boggy muskeg, through lush forest and along shorelines, often with snow-capped peaks as a backdrop. For me, the quintessential experience is kayaking in a remote cove. You may hear the call of an eagle as you stop to breathe deeply and take in the magnificence of Mother Nature.

Lessons in Conservation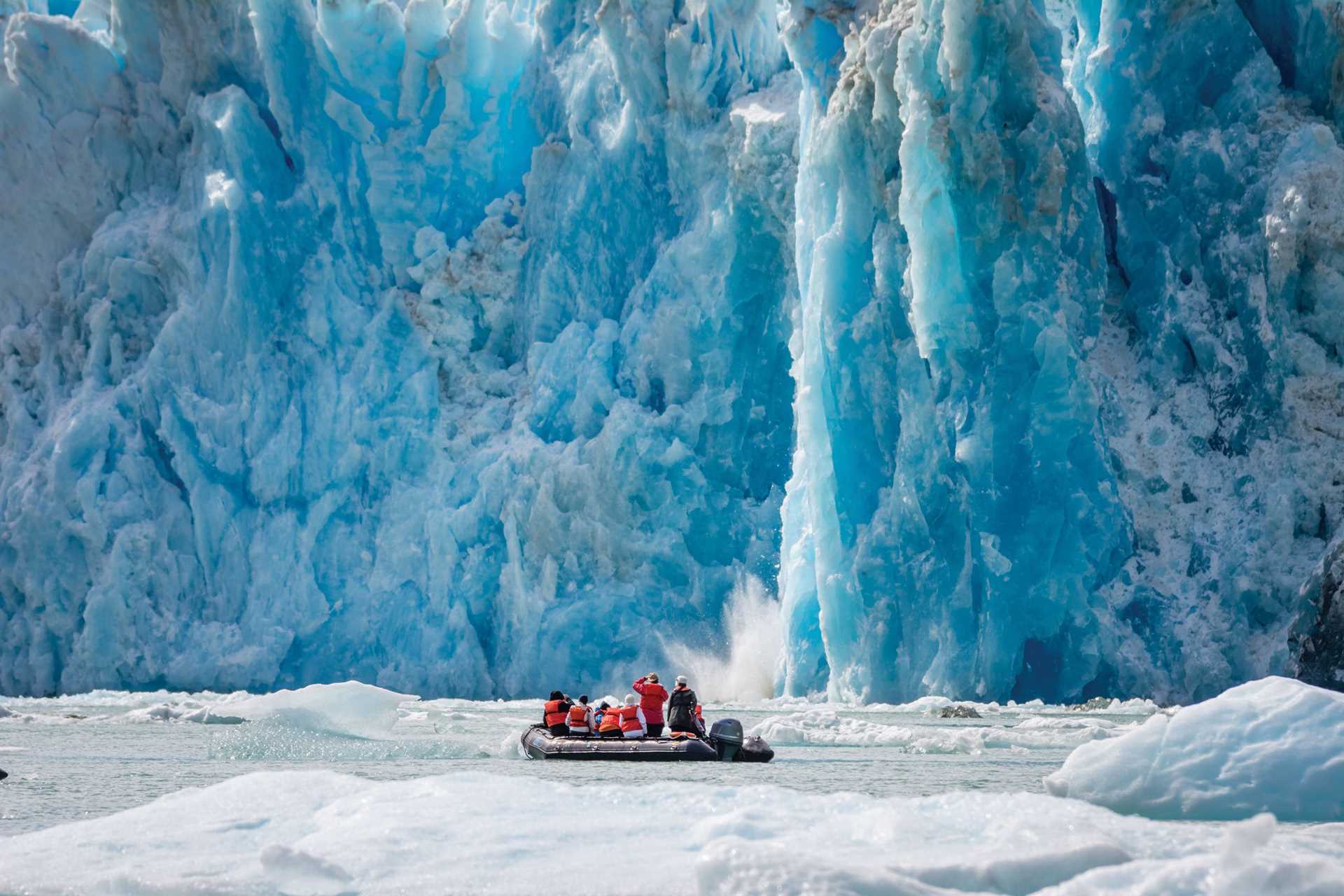 Everyone wants to see a glacier. Lindblad makes the experience meaningful. At their faces, naturalists explain how these massive bodies of slowly moving ice looked 20, 30, 40 years ago, and the magnitude of their retreat. It's an eye-opening encounter with a changing planet. 
"This opens the door to conversation about conservation and how what you are seeing may not be around for future generations," says Lindblad. Whether it's an icy landscape or a baby sea otter resting on its mother's belly, witnessing these details face-to-face can have a profound effect on people and inspire them to take action. Creating global stewards is one of the company's driving missions.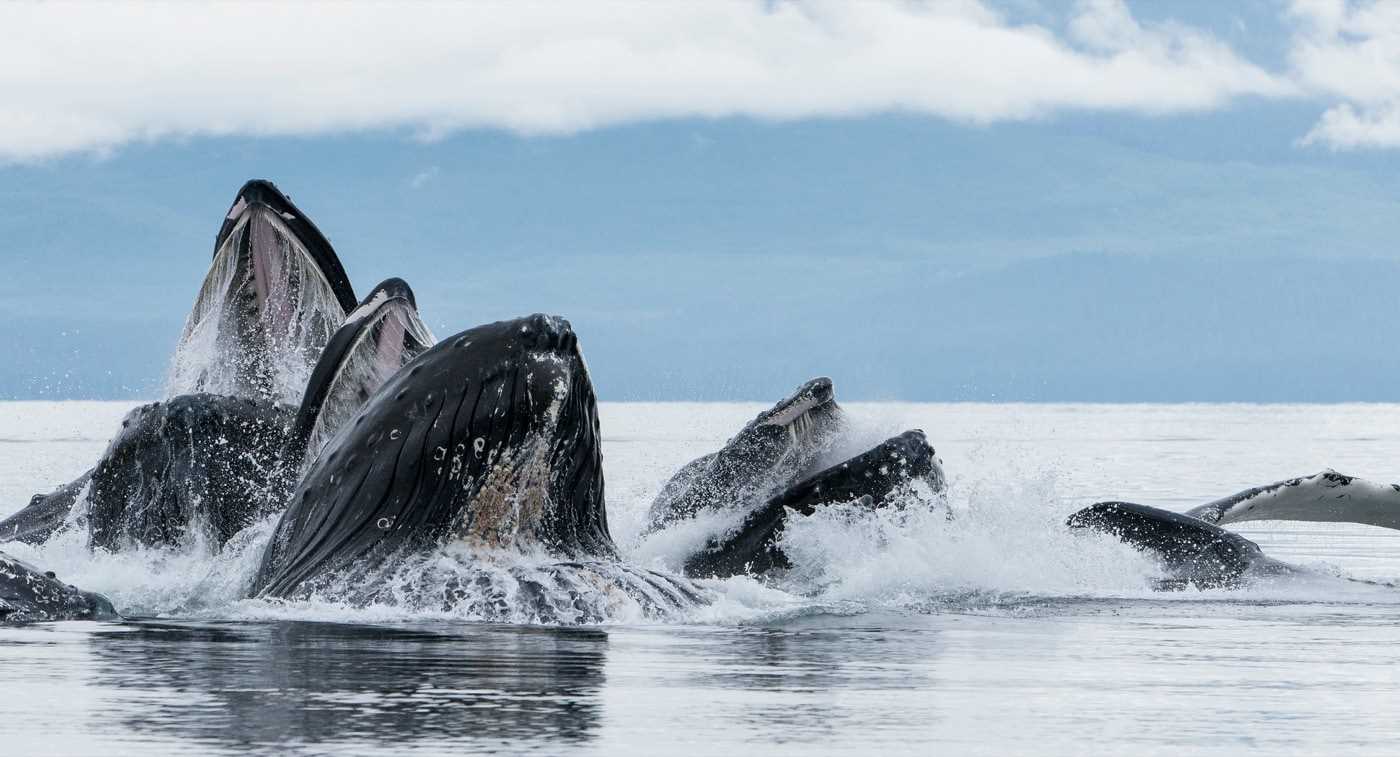 To have a significant impact, contributions from guests to the Lindblad Expeditions-National Geographic Fund support the Alaska Whale Foundation, in its efforts to study and conserve Alaska's whales and other wildlife. Travelers provide financial support, and have the opportunity to meet face-to-face with the researchers and scientists conducting a range of critical conservation and education projects in the region.
Small Ships, Big Discoveries: The Lindblad-National Geographic Difference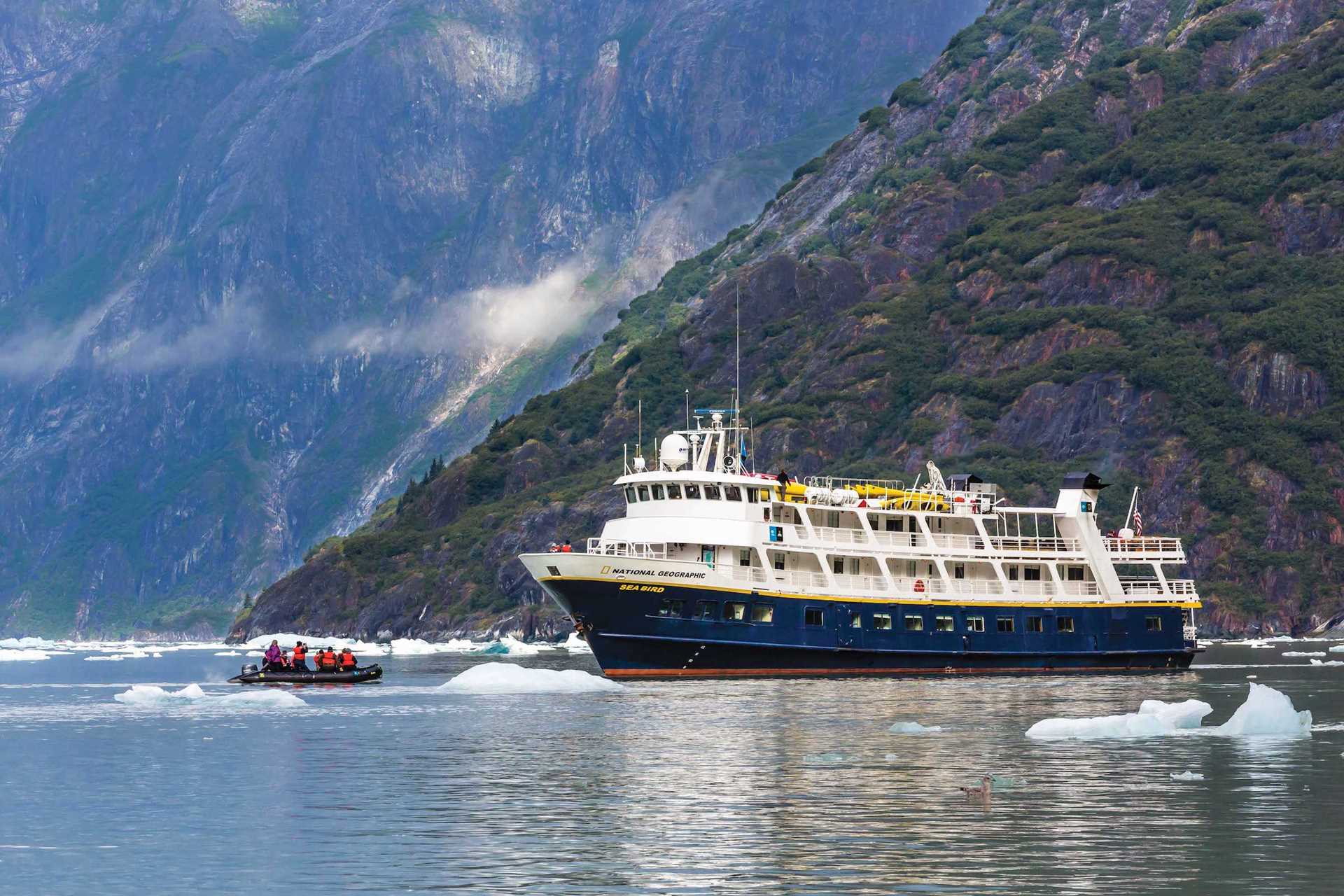 Lindblad's original ship in Alaska was a 62-passenger charter called the Majestic Explorer which was later renamed Sea Bird, and eventually National Geographic Sea Bird, which the company officially purchased in 1990. As interest in the market grew, and the season expanded from May through September, National Geographic Sea Bird was quickly followed by sister ship National Geographic Sea Lion.

In 2017, turning to Nichols Brothers Boat Builders, the same Pacific Northwest shipyard that built the first two ships, Lindblad added to their fleet with the 100-passenger National Geographic Quest, followed a year later by sister ship, National Geographic Venture.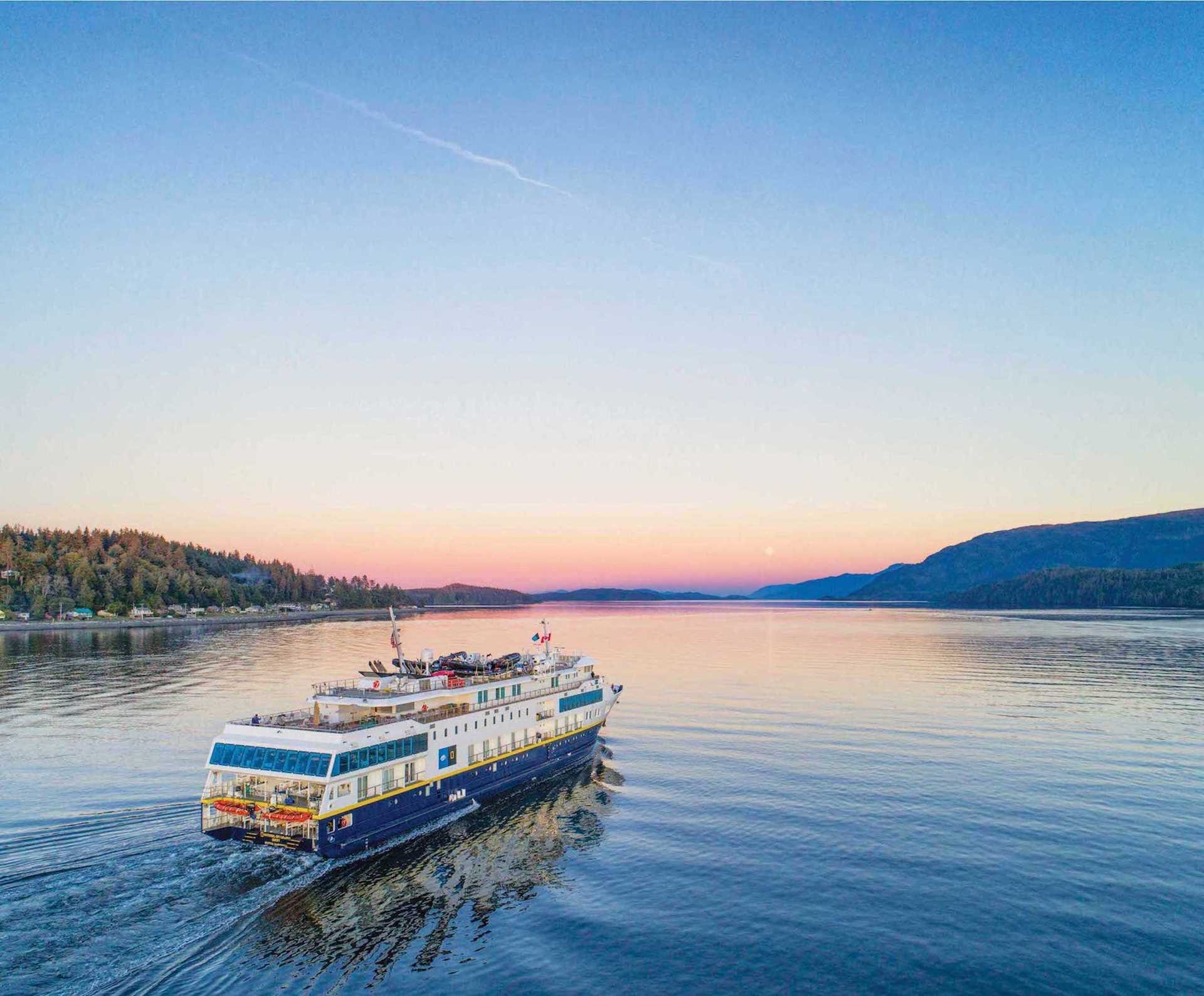 Both ships were purpose-built to explore the Pacific Northwest coast with large expanses of glass that keep guests connected to the verdant landscapes; a shallow draft that allows the captain to navigate secluded inlets deep in the heart of the wilderness; and twin Zodiac boarding platforms that help get guests off ship quickly to take advantage of wildlife sightings. 

On all four ships, guests stay in cabins with views, can hang out on the bow or visit the Bridge (which has an open door policy) to spot wildlife, and explore via a roster of onboard expedition tools that includes Zodiacs, kayaks, and even stand-up paddleboards. These days, you can also treat yourself to a massage at the LEXspa, hone your photo skills with tips from the Lindblad-National Geographic certified photo instructor, and observe videos and microscopic samples gathered by the ship's undersea specialist. The exclusive National Geographic Global Explorers program provides educational activities for younger guests.

With one expedition team member for each 10 to 12 guests, it is an intimate experience. Most have worked in Alaska for years and many live, or have lived, locally, providing them a wealth of insider knowledge and a deep passion for the wild wonders in their backyards.  

Today, the ships put a huge emphasis on local and sustainable food and beverage products. "We could blindfold you and you would know where you are just by tasting the salmon, Dungeness crab, and halibut," says Byus. "Every meal has an element that ties you to Alaska." Beyond fish, guests can also look for local berries, local kelp, pure sea salt processed in Sitka, fresh herbs and edible flowers sourced from a little island outside of Petersburg, and local beer brewed with glacier water run-off and unique local ingredients like spruce tips.

Cruising into the Future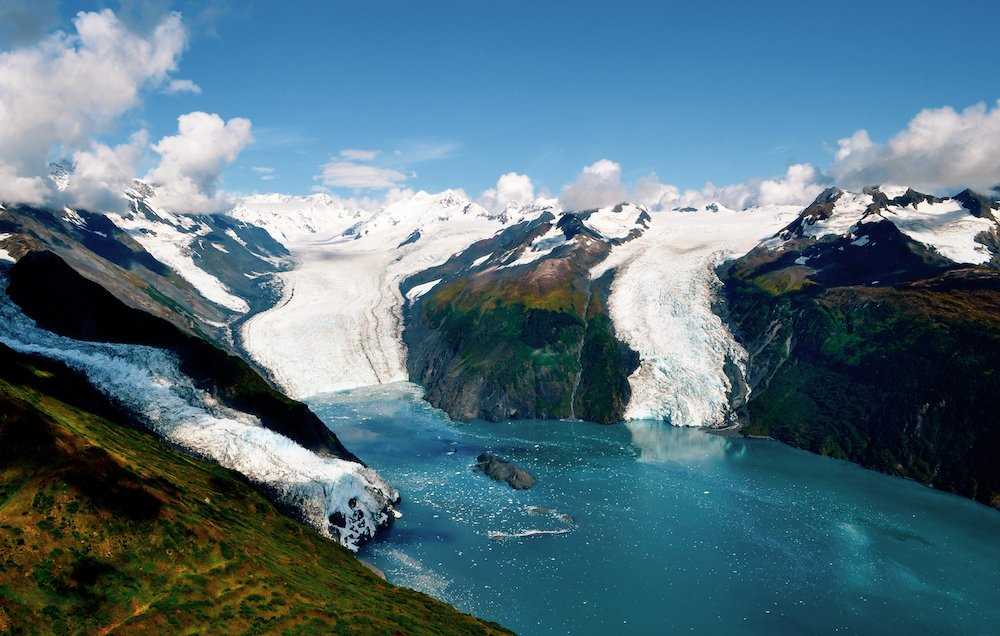 Lindblad's 6- to 14-day itineraries focus on Southeast Alaska, while some expeditions also combine the region with an exploration of coastal British Columbia or the San Juan Islands of Washington State. To kick off the 2023 season, Lindblad has planned a special commemorative voyage. This epic trip from Seattle to Sitka will honor the past and celebrate the future with special guest speakers, unique programming, onboard giveaways, and more.

In 2024, Lindblad will add a six-day expedition aboard the National Geographic Sea Lion that sails southwest of Anchorage on Prince William Sound, home to 20 tidewater glaciers. Sailing round-trip from the small fishing community of Cordova, this new voyage will explore an area of the Chugach National Forest and visit the town of Valdez, which is surrounded by some of the tallest coastal mountains in the world.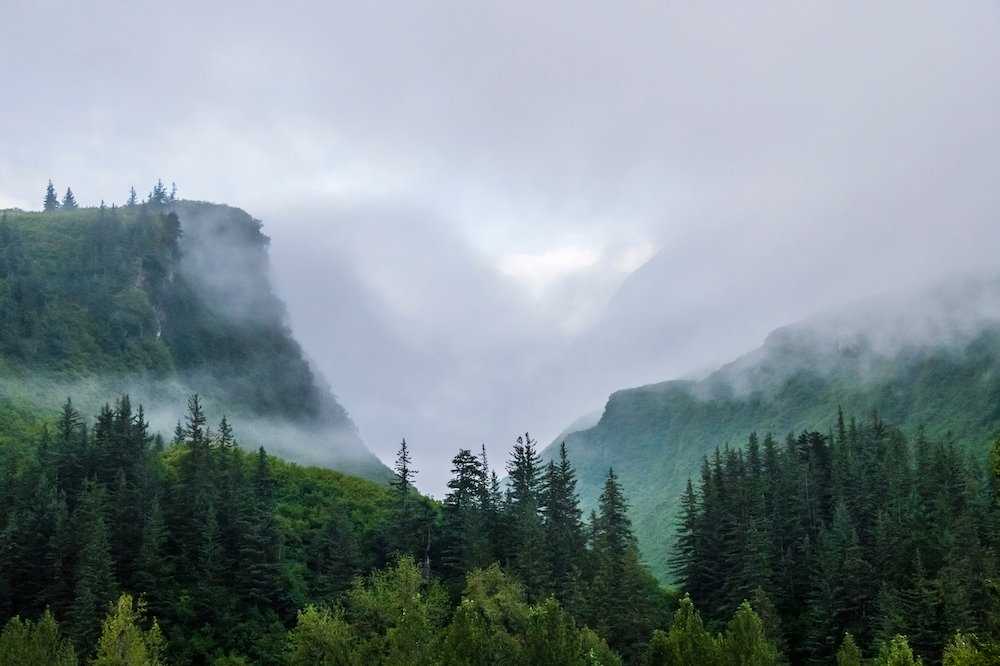 Wildlife in the area includes humpback whales and orcas, sea otters, harbor seals, brown and black bears, puffins, Arctic terns, and moose and wolves. Guests will hike through pristine forest and along the shoreline, as well as explore the region in Zodiacs and kayaks.

"I still remember the first time that I was in front of a tidewater glacier, being awed by that wall of ice in front of me, and it was spectacular," says naturalist and expedition leader Sarah Friedlander, who is a newly named expedition developer for the company. "No place does wilderness better than Alaska."