Overview
Lindblad Expeditions is thrilled to welcome the National Geographic Islander II to our fleet. Sleek and elegant, she will sail year-round in the Galápagos Islands and elevate the guest experience to an entirely new level.
National Geographic Islander II is a gracious expedition vessel that feels like a private yacht. With only 26 staterooms and suites, and accommodating just 48 guests, she sails with a 1:1 guest-to-crew ratio.
Special features include teak decks, indoor-outdoor dining options, an impressive observation deck, and new amenities like a climate-controlled Marina and a dedicated Science Hub.
Fly through our newest ship in the Galápagos on a virtual tour unlike any other. Follow our drone as it soars over, around, and through every nook and cranny of this elegant vessel.
National Geographic Islander II provides an authentic sense of place, drawing on our decades of partnering with local communities and conservation groups. Contributing to the fully immersive Ecuadorian experience on board are Ecuadorian staff and locally sourced and sustainable farm-to-table and ocean-to-table culinary ingredients, as well as artisan spa elements and handcrafted textiles, art, and décor all regionally created.
Explore the ship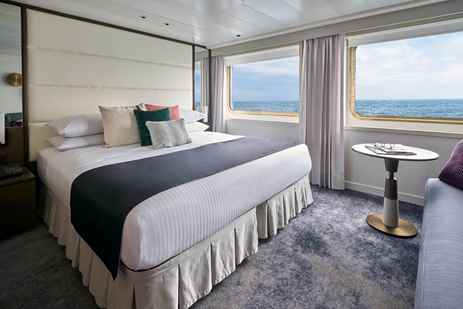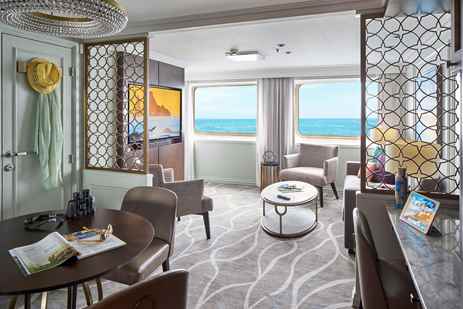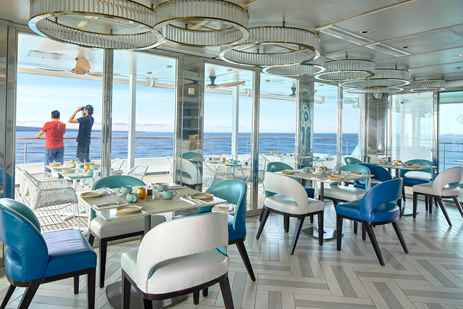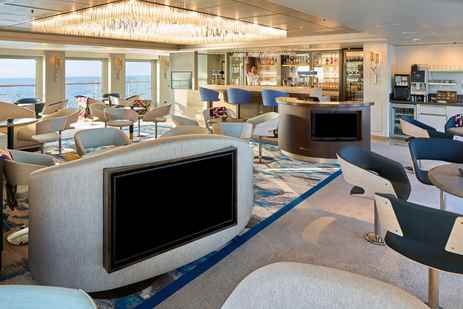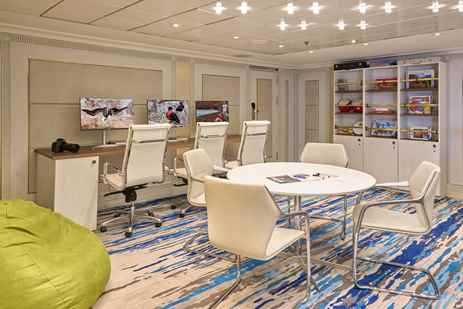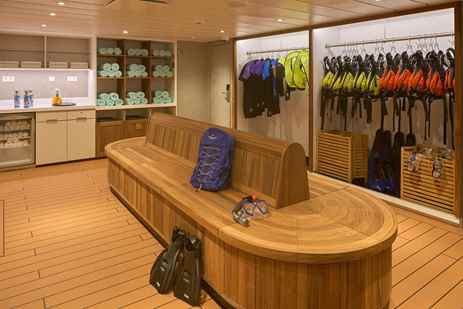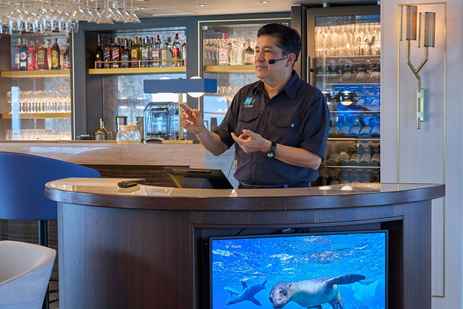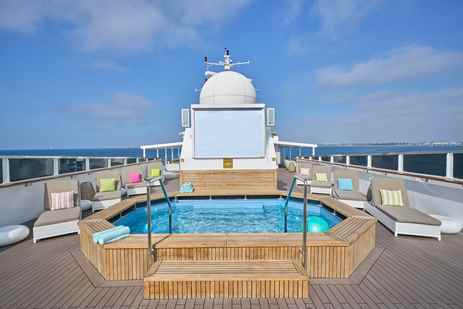 Spacious Accommodations
18 staterooms, 4 solo staterooms, and 4 Islander Suites accommodating just 48 guests—all with large windows, convertible king/twin beds with 600-thread count bedding, ample closets, sofa, and marble double-sink bathrooms with a rain shower featuring a collection of organic amenities crafted exclusively for Lindblad Expeditions. In addition, a stocked mini-bar can be customized to guests' preferences, and there's in-room coffee and tea, Wi-Fi, and a flat-screen TV.
Spacious Accommodations
Islander Suites are a notable 515 square feet and have a separate living area, table and chairs, four large windows, walk-in closets, a larger bathroom with both a bathtub and glassed-in rain shower, and commissioned art inspired by the island in each suite's name.


Connecting staterooms are available and there are solo and triple options. The Santa Cruz Islander Suite can be reserved with a connecting double as a family suite.
Indoor-Outdoor Dining 
Enjoy meals in the expanded al fresco Patio Café, sophisticated Yacht Club Restaurant on the Promenade Deck, or Grill on the Observation Deck, where there's also a bar and ample seating to host events. Here, guests gather for wine tastings, chocolate tastings, and Bubble-Qs—BBQs made extra celebratory with Champagne. The convenient 24-hour beverage and snack stations in the Bar and Library are other welcome amenities.
The Cove
The newly reimagined Cove is a gathering spot for pre-dinner Recaps, camaraderie with like-minded travelers, and craft cocktails. Four flat-screen TVs are part of a state-of-the-art communications system for engaging and informative audiovisual presentations. A forward-facing viewing platform invites you to step outside to take in the beauty of the islands.
Science Hub
Outfitted with scientific equipment, the exciting new Science Hub continues the Lindblad Expeditions-National Geographic legacy of supporting conservation and research. Equipped for underway oceanography, interactive video presentations, and an enhanced photo experience, the Science Hub is also a place for young guests in the National Geographic Global Explorers Program to experience hands-on learning.
Expedition Tools
National Geographic Islander II carries a fleet of kayaks and stand-up paddleboards, a glass-bottom boat, an expanded flotilla of versatile Zodiacs, complete snorkel gear for adults and children, video microscope, and Science Hub.
The newly refitted teak-appointed marina is spacious and climate-controlled, designed for guests to comfortably get in and out of expedition gear.
Expanded Expedition Staff
The Expedition Team, led by a veteran Expedition Leader, includes a five Naturalists, Undersea Specialist, Certified Photo Instructor, and Certified Field Educators who run our exclusive National Geographic Global Explorers Program for kids and teens.
Public Spaces
The ship's public spaces enhance the connection to the islands. Guests will find an open Bridge, surrounding teak decks, and a forward-viewing area. Two dining areas accommodate all guests in a single seating. The Cove, which has a bar, is the setting for daily Recaps. Other ship features include a Reception area with glass doors that lead to an open teak Viewing Deck, a Plunge Pool, a Chart Room, the Global Gallery, Library, Marina, Swim Platform, and Zodiac boarding area.
Discover
National Geographic Islander II's Maiden Voyage
An authentic, immersive experience in the Galàpagos
The National Geographic Islander II celebrates Lindblad's deep connection to the islands, Ecuador, and its people with a deeply immersive and truly unique Ecuadorian cultural experience. The carefully considered food and beverage program highlights the four regions of Ecuador with locally sourced farm-to-table ingredients. Regional ingredients can even be found in spa products. From Ecuadorian shipboard staff to artwork, textiles, and décor created by local artists and artisans and Ecuadorean music heard throughout the ship, guests will experience the beauty and wonder of Ecuador both on and off the ship.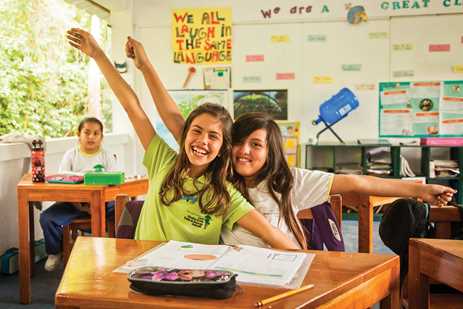 Islander II Naming Ceremony
On October 23, 2022, Lindblad Expeditions christened National Geographic Islander ll off the island of Santa Cruz in Galápagos with local dignitaries, company leaders and media surrounding the bow in zodiacs.
A Leader in Sea-based Adventure Travel
Writer Stefanie Waldek recently published an in-depth review of National Geographic Islander II for Condé Nast Traveler where she highlights this Lindblad Expeditions-National Geographic ship as "not a rugged expedition ship from the days of yore, but a more yacht-like experience."
read more
The New Superyacht Sailing the Galápagos
"National Geographic Islander II is less a ship, more a boutique hotel, where guests can sip craft cocktails or lounge in a hammock on the wraparound teak decks, lulled by the waves."

After traveling to Galapagos aboard National Geographic Islander ll, Nathan Tavares of Travel + Leisure reports on the expedition experience, ship's unique design, and creature comforts.
read more
Meet The Entrepreneur Putting The Cool Factor In Small Ship Cruising
"Lindblad Expeditions is taking the expedition space to the next level by rolling out transformative small ships in partnership with National Geographic that are combining new kinds of exploration and education with unheard of levels of luxury, style and comfort."

Laura Begley Bloom shares her experience sailing to one of the most pristine destinations on earth with founder of Lindblad Expeditions and chairman of the board, Sven Lindblad.
read more
Just Back from a Galápagos Islands Cruise with Lindblad Expeditions
"It's the kind of expedition ship that exudes both class and intimacy at the same time; a welcomed home base to return to after a day of exploring the wonders of the Galápagos Islands."

Aaron Saunders from Cruise Critic speaks to the ship's comfort, amenities for expedition, generous outdoor spaces, and locally-influenced dining.
read more
Blessing the National Geographic Islander II
On July 29, 2022, Lindblad Expeditions celebrated the official blessing of the newest addition to the fleet, National Geographic Islander ll, in Salinas, Ecuador. Attendees included Ecuador's Minister of Tourism, Niels Olsen; Gustavo Manrique, Minister of the Environment, Water and Ecological Transition; industry colleagues; local partners; and members of Lindblad's beloved crew.
National Geographic Islander II: Behind the Scenes
In this video Darrel Schoeling, Director of Expedition Development, and Ana Esteves, Vice President of Hotel Operations, provide a behind-the-scenes look at how the National Geographic Islander II was purposely outfitted to reduce impact, build community on board, and foster an authentic connection to the people and culture of Ecuador and the Galápagos Islands.
National Geographic Islander II: A Truly Ecuadorian Ship
Our new ship for the Galápagos Islands, the National Geographic Islander II, celebrates the cultures of Ecuador and the islands themselves. Join Vice President of Hotel Operations Ana Esteves as she finds inspiration around the country—meeting acclaimed local artisans, chefs, and artists who showcase the beauty and wonder of Ecuador.
(3) National Geographic Islander II Itineraries